New to little Indiana? Subscribe for free to my RSS feed. Thanks for stopping by!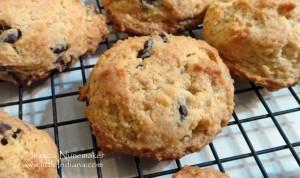 Chocolate Chip Cookies Recipe: Chocolate Chip Cheesecake Cookies
I have made so many chocolate chip cookie recipes over the years–but we now have a two-way tie!
This Chocolate Chip Cookie Recipe is unbelievable. Unlike your typical cookie recipe, you store these cookies in the fridge.
It really makes them over the top delicious. I think this would be a great recipe to keep in mind for the summer months, when you want something sweet and substantial.
Chocolate Chip Cookie Recipe: Chocolate Chip Cheesecake Cookies
Print Chocolate Chip Cheesecake Cookies Recipe
Rating: 51
Prep Time: 15 minutes
Cook Time: 9 minutes
Total Time: 1 hour
Yield: 3 Dozen Cookies
A phenomenal Chocolate Chip Cookie Recipe from Food.com.
Store these cookies in the fridge and eat them cold. They are amazing!
Ingredients
1 Cup Butter, Softened
3/4 Cup Sugar
3/4 Cup Brown Sugar
8 Ounces Cream Cheese, Softened
1 teaspoon Vanilla
1 Egg
2 1/4 Cups Flour
1 teaspoon Baking Soda
1 teaspoon Salt
2 Cups Semi-Sweet Chocolate Chips
Instructions
350* Oven.
Cream Butter and Sugars.
Add Cream Cheese and mix until lumps are beaten out.
Add Vanilla Extract and Egg. Mix.
Add Flour a bit at a time.
Add Baking Soda and Salt. Do not overmix.
Fold in Chocolate Chips by hand.
Using a 1 1/2 Tablespoon dough scoop, set on a parchment-lined cookie sheet.
Bake 9 - 11 minutes.
Cool on wire rack until completely cooled.
Store in refrigerator. They are AMAZING cold!
Schema/Recipe SEO Data Markup by ZipList Recipe Plugin2.0http://littleindiana.com/2013/02/chocolate-chip-cheesecake-cookies-recipe/Photos are the Property of little Indiana. Do Not Use Without Permission.
pictures in Indiana
little Indiana Tumblr blog
Just don't forget to tell 'em that  little Indiana sent you!
Don't miss a moment. Subscribe to little Indiana and receive instant updates to stay on top of everything "little."
little Indiana: Where to Stay, Play, and Eat in Small Towns in Indiana. Discovering Indiana's best small towns! Now get little Indiana on your Kindle.
Targeted. Relevant. Affordable! little Indiana advertising.