Chocolate banana Smoothie Recipe- How to make 
Chocolate banana Smoothie-Easy Banana Smoothie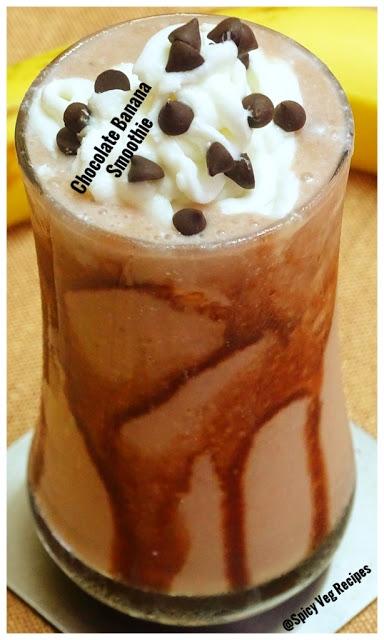 Chocolate Banana Smoothie
This chocolate banana smoothie is a great way to start the day! 
Banana chocolate smoothie is one of the 
delicious
 smoothies that are often made at home.
More banana recipes from this blog:
Pineapple Banana Smoothie
Kiwi Banana Smoothie
Strawberry Banana Milkshake
Mango Banana smoothie 
Banana and Rose Smoothie with Toasted Nuts
Chocolate Banana Smoothie Recipe
---
Prep Time: 0 min      Total time: 2 min      Serves: 1
---
Main Ingredient:
milk, cocoa powder and banana
Recipe Type:
Beverages & drinks
Cuisine:
Fusion
Level of cooking:
Easy
Ingredients:
1 banana 

peeled and sliced

1 cup milk or 

almond milk or coconut milk

1 tablespoons unsweetened cacao powder

sugar/honey to taste

1 tablespoon 

mini chocolate chips (optional)

1 tablespoons chocolate syrup(optional)

Whipped cream (optional)

Sprinkles of your choice(optional)
Method: 
Place all ingredients into a blender and Blend until smooth

Pour into the glass.

Add whipped cream and sprinkles of your choice. I

f desired.

Serve immediately.
Suggestions: 
If you'd like your milkshakes extra thick, use a frozen banana.
If you liked this, please share. Thanks!