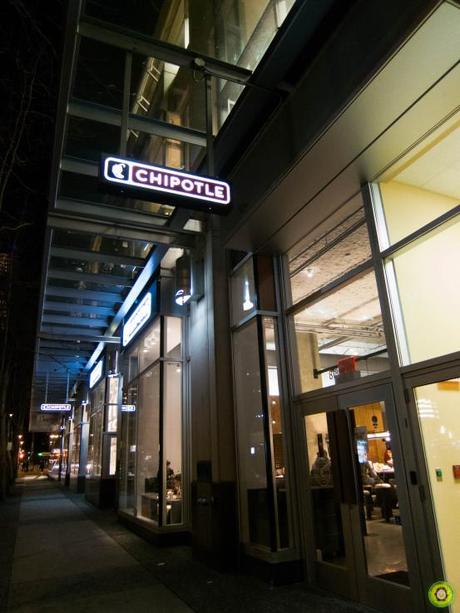 Ever since I watched Wong Fu's video – If I Dated A Burrito! – I've always wanted to try Chipotle! Big food, big flavour, big value. Lucky for me, I got to try out Chipotle for the first time in Toronto. Oh man, no wonder Phil, Wes and Ted always ate there; it was simply stomach satisfying.
What's more, Chipotle has actually set up shop in the heart of downtown Vancouver! FINALLY! So, after my workout with hippoCHAN, we drove down there for a burrito blowout.

Peering through the windows from the outside, the place seemed absolutely packed. That's an illusion though, because there's a lot of tall seating, making it seem like everyone was standing!
The ordering style is similar to Subway, where you just make your selections as your wobble down the assembly line.  Notably, this particular Chipotle only uses local and organic ingredients!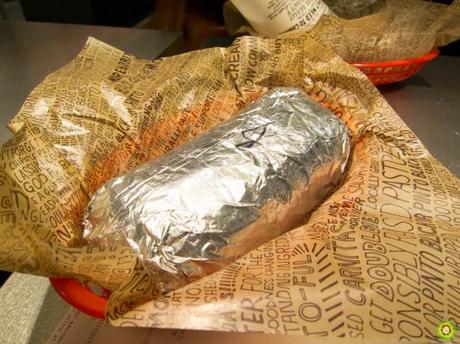 Look at the size of that! It definitely filled me up, even though I haven't eaten for 7 hours prior.
I ordered the Barbacoa ($8.95) with:
- Black beans
- Cilantro-lime brown rice
- Fresh tomato salsa
- Tomatillo-red chilli salsa
- Cheese
- Sour cream
- Romaine lettuce
As a side note: the guacamole was another $2.21 and they use 70 avocados per batch!
Barcacoa, originally, refers to the slow-cooking meat over an open fire that all started in the Caribbean. However, Chipotle shifts directions a bit. Instead, they slowly braise the beef in chipotle pepper adobo, cumin, garlic and oregano. The end result is a deliciously spicy shredded beef that remains quite moist when serving!
However, I found that the burrito was quite salty near the end… maybe 'cos of all the salsa? :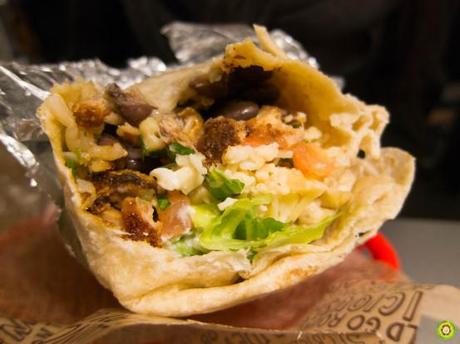 hippoCHAN ordered the Chicken ($8.95) with the same toppings as me, except for roasted-chilli corn salsa because it was less spicy. Immediately after I took a byte, the chicken reminded me of Church's Chicken! This means that I can finally stop reminiscing about Church's steroid chicken, and actually enjoy a healthier substitute.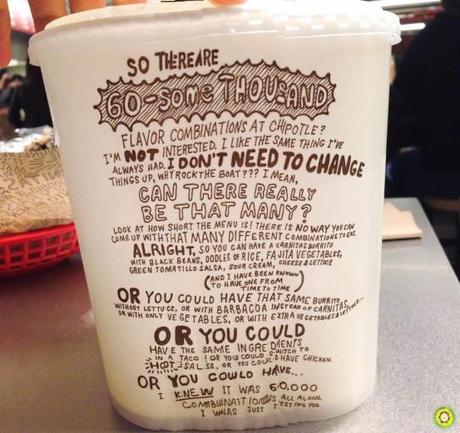 We also ordered a fountain drink ($1.85) for which we chose Fresca. There's free refills as well!
Caution: Fresca is sweetened with aspartame, which may compromise your health >> Read Here.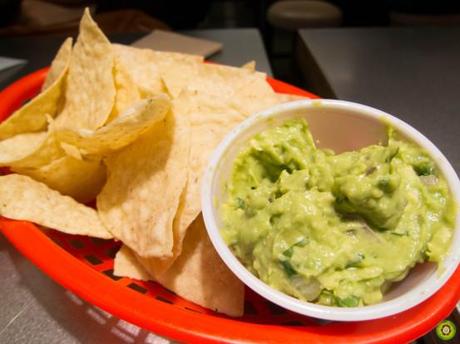 Midway through our meal, I thought, "Hmmm… I wonder if they have nacho?" to which hippoCHAN replied, "OMG, I want nachos."
Well, I'm sad to report that there wasn't nachos. However, Chipotle does have Tortilla Chips w/ Salsa or Guacamole. We opted for the guac ($3.30).
Because the chips were salted, we found that the chip+guac combination was overly salty. We resorted to scrapping off the grains of salt :P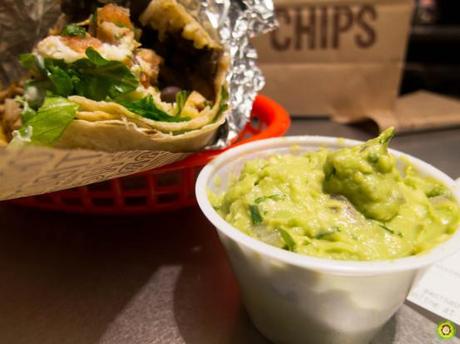 By the end, we were stuffed to the seams with half a bag of chips leftover. Although Chipotle is bigger and cheaper in the States, I found our meal to be of great value. Don't forget that this Chipotle uses organic and local ingredients! Oh how UBC LFS would be proud…
Final Bytes
1.  Check out the Thought Catalog on How to Hack Chipotle!
2.  Pay parking is $4/hour!
3.  Download the Chipotle app to pre-order and skip the line!
Foodobyte's Rating

---