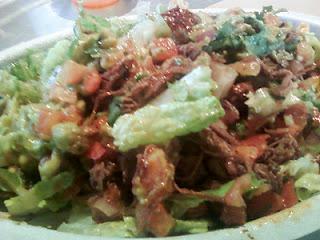 Early dinner at Chipotle. Salad with 1/2 barbacoa, 1\2 steak, salsa, and guac. Yum!
If I eat at Chipotle again, I think I will just get a burger bowl, though... I was charged extra for the guac, and they put lettuce in the burger bowl anyway. Plus, I didn't like the weird dressing they gave me. I didn't think about it and poured it on... but it was way too sweet and not all that good-tasting, either. Bleh. Made me thirsty! And the guac and salsa are more than enough "dressing" anyway. :)
I love getting the chunky salsa (forget what they call it) because of the cilantro. *drools* Loooove cilantro...