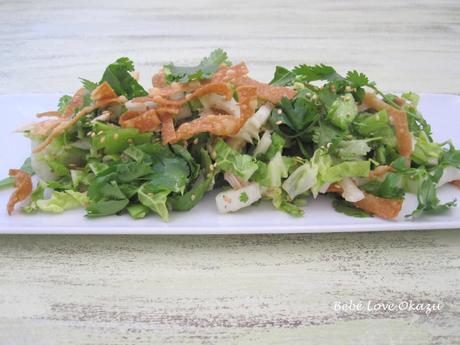 There are a handful of signature salads that I enjoy eating when I dine out, and the Chinois chicken salad is one such salad. A few years ago, I met my BFF (best friend forever), aka, Auntie S, at Wolfgang Puck's Chinois Cafe in South Coast Plaza. She shared with me that she really enjoys their chicken salad so I decided to give it a try. I'm a huge fan of Asian inspired chicken salad, but I am p-i-c-k-y! There are very few Asian chicken salads that I love, yet, I found myself really enjoying this. I was hooked!
The Chinois chicken salad is a mix of napa cabbage and romaine lettuce, mixed with a generous helping of cilantro and tossed with tiny crispy wonton strips, toasted sesame seeds, scallions and thinly julienned snow peas. My favorite aspect of this salad is the savory, slightly tart vinaigrette with it's hint of mustard spice. It differs from my favorite chinese chicken salad recipe in that it appeals more to my savory palette. The chinese chicken salad recipe I often enjoy at home is sweeter, and this savory mustard vinaigrette was a refreshing change of pace.
A few months ago, Bebe E, Auntie S and I, found ourselves once again at South Coast Plaza for a girls' day out. We quickly decided to revisit Wolfgang Puck's Chinois Cafe and we both ordered the chicken salad. When we were almost done with our salads, I turned to Auntie S, and said what I hate saying when we're dining out: "I bet we could make this at home." That night, I was lucky to find this salad recipe on Wolfgang Puck's website (thank you, Chef Puck!), and soon enough we made plans to have dinner at our house for Chinois chicken salad night.
Now, THAT was a good night.
We planned our chicken salad night on our regularly scheduled gym night. The BFF and I have a standing gym date where we spend 50% of our time working out and 50% of our time doing what best girlfriends do best… catch-up on our week, check-in on our families, laugh about silly stuff, complain about anything that we need to vent about, and in general make the most of our girl time. Instead of half-an-hour on the treadmill and a few weight machines, we hung out at home, ate chicken salad for dinner and Beard Papa cream puffs for dessert. It was indeed a good night.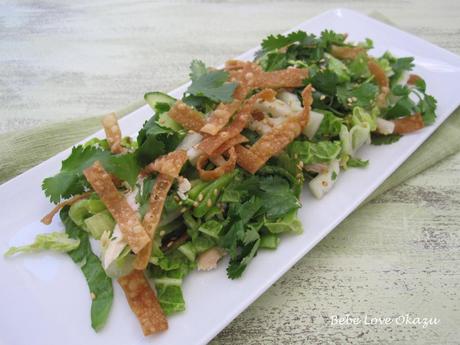 Thanks Auntie S for a great night and for the delicious Beard Papa cream puffs! We should definitely take a break from our gym night routine and have yet another dinner at home soon!
I hope everyone had a great weekend. We had quite the busy weekend and I'll look forward to sharing more about it soon.
Cheers!
Judy
Chinois Chicken Salad Print
Recipe type:
Main, Side
Author:
Bebe Love Okazu
Serves:
4
Easy to make at home Chinois Cafe signature chicken salad.
Ingredients
for mustard vinaigrette dressing:
4 teaspoons dry Chinese mustard powder
1/2 cup rice wine vinegar
2 teaspoons soy sauce
4 tablespoons sesame oil (or light sesame oil)
4 tablespoons canola oil (or peanut oil)
Fresh ground black pepper, to taste
Salt, to taste
for salad:
4 cups shredded roast chicken
1 medium head napa cabbage, 1/4 inch julienne strips
2 cups romaine lettuce, 1/4 inch julienne strips
20 snow peas, 1/4 inch julienne strips
6 teaspoons sesame seeds, toasted
1 scallion, finely sliced (optional)
Fried wonton strips (optional)
Directions
Make vinaigrette. In a re-sealable jar or plastic container with secure lid, combine all ingredients for the vinaigrette and shake vigorously until the ingredients are thoroughly combined. Alternatively, use a blender to mix the ingredients until smooth, adding the oil last. Add salt and pepper to adjust taste as needed.
Make salad. Julienne napa cabbage, romain lettuce, and raw snow peas. Combine vegetables with shredded chicken. Pour vinaigrette over salad and toss until well-coated. Garnish with toasted sesame seeds, scallions and wonton strips.
Optional Wonton Strips. Using 8 – 10 wonton wrappers, thinly slice them into 1/4 inch wide x 1 inch tall pieces. In hot canola oil, fry wonton strips for up to 60 seconds until golden brown. Drain on paper towels.
Notes
Recipe adapted from Wolfgang Puck.
2.2.8