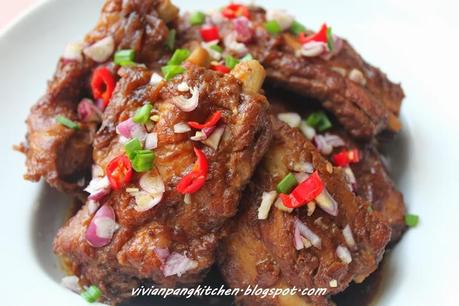 I'm back! After about a week of resting now I'm back blogging :) This is a simple and great recipe from Sonia aka Nasi Lemak Lover. The shallots are first sauté till aromatic. Then add in ribs, soya sauce and braise for an hour or more till tender. The ribs turn out flavourful and succulent. My kids can't stop from asking more. I enjoy it with some raw shallots and chilies soya dipping sauce. I definitely will cook this often in future.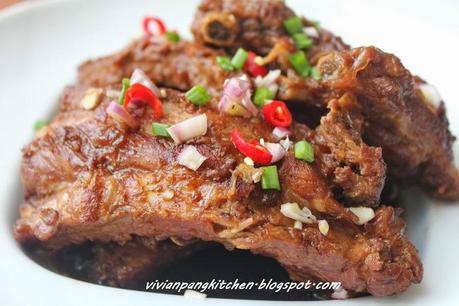 Adapted from

Sonia aka Nasi Lemak Lover
Chinese Spareribs with shallots
紅葱烤排
Ingredients:
900g prime pork spareribs
1/3 cup light soy sauce
1 tablespoon Chinese cooking rice wine
2 pieces star anise
10-15 shallots (depend on the size), removed skin and lightly crushed
3 slices ginger
2 cups water
3 tablespoon cooking oil
½ teaspoon salt or to taste
1 teaspoon dark soy sauce or dark caramel soy sauce
½ tablespoon rock sugar or to taste
Some chopped shallots, spring onion and chili for garnishing
Methods:
1. Wash and clean pork spareribs, pat dry with kitchen towels. Marinate with light soy sauce and cooking wine for several hours in the fridge.
2. Heat oil in a heavy bottom wok/pot, add in shallots and sauté till brown and aroma. Add in pork spareribs, lightly fry till both sides turned golden brown.
3. Add water, light soy sauce (from marinated sauce), dark soy sauce, ginger and star anise into the wok/pot, boil over high heat. Once boiled, reduce to low heat, continue to braise for about 1 hour (check from time to time and stir the ribs).
4. Once the meat is fork tendered, add in the rock sugar and adjust the taste by adding salt or more rock sugar.
5. Turn on to high heat to thicken the sauce if any, otherwise dish out and garnish with chopped shallots, serve with rice.