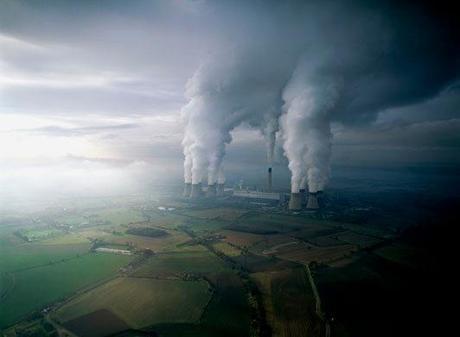 Although China has faced harsh criticism for its lackadaisical enforcement of environmental regulations, the Ministry of Environmental Protection (MEP) recently issued fines to eight large coal-fired power plants. In each case, they were found to have exceeded the permissible limit for sulfur dioxide, and six of them disabled monitoring equipment or falsified emissions data. China likely is stepping up enforcement in response to international doubt that it will meet many of the optimistic pollution reductions touted in its
12th Five-Year Plan
, including an 8 percent drop in sulfur dioxide by 2015.
"Violating emissions limits has been a long-lasting problem among coal-fired power plants' due to technical difficulties, funding, and local protection," according to an article describing MEP's statement. The relatively small amounts polluters pay in fines probably doesn't help either. By law, the penalty for falsifying data is capped at 50,000 Yuan ($7,900), and sulfur pollution is capped at 100,000 Yuan ($15,700). Though paying the (unspecified) fines will almost certainly not be an issue, the eight power plants must quickly reduce sulfur dioxide emissions by the end of the year. They will also lose subsides received under China's desulfurization program.
According to Xinhua, China's official press agency, some of the violators are affiliated with the country's largest power companies—namely, China Power Investment Corporation, China Guodian Corporation, China Huadian Corporation, and China Datang Corporation. As part of China's Big Five power producers, the four companies mentioned above produce roughly 40 percent of China's energy. In total, 70 percent of China's power comes from its roughly 2,500 coal-fired power plants.
Despite making respectable headway with regard to sulfur dioxide (China reported a 1.74 percent decrease between the beginning of 2010 and 2011), this calls into question the accuracy of all of China's environmental data. On one hand, it's good to know that MEP is enforcing environmental standards. But, on the other, it's hard not to think this may just the tip of the iceberg for falsifying information. To achieve genuine and sustained reductions in environmental targets, we will probably hear more about cases like this in the future.
Image (coal plant in the U.K., not China)