Hardly a day has passed since the announcement of the Apple's latest iPad Mini tablet and the popular Chinese company GooPhone has already announced a rip-off of the device.  They call it the GooPad mini, which runs on Android and has the same looks of the iPad Mini.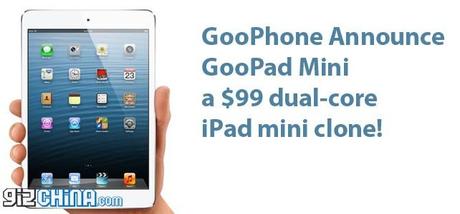 China is popular for making clones of popular devices. GooPhone is one of the most popular brands among that clone-crowd. Their latest achievement, GooPad mini comes packed with an 8-inch display with 1024 x 768 resolution and gets powered by 1.4GHz dual-core processor and 1GB of RAM. Device also features a version of Android 4.1 Jellybean which has been redesigned with an iOS6-style skin.
Unlike the original iPad Mini, which sells for $329, this cloned-tablet sells cheap at $99. Company is planning to release this new tablet later in  November after the official Apple iPad Mini release.
[Source: GooPhone Announce $99 GooPad Mini IPad Mini Clone GizChina]
(All the images, trademarks, logo's shown on this post are the property of their respective owners)
Roshan Jerad Perera