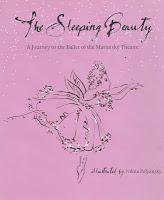 If your little princess loves dancing or fairy tales, then I have the perfect book for her: The Sleeping Beauty: A Journey to the Ballet of the Mariinsky Theatre, by Nikita Polyansky. This gorgeous hardcover picture book tells the story of a little girl in St. Petersburg, Russia, who dreams of seeing the ballet performance of The Sleeping Beauty at the Mariinsky Theatre on Christmas day. Unfortunately, there are no tickets left, but Lena-Gabrielle finds her way to the theater with the help of some talking statues and an old man named Mr. Tchaikovsky (who wrote the music to the ballet). When he hears of her quest, he introduces her to Mr. Petipa, the famous ballet master, who gives her a pair of ballet shoes. And then she watches the beautiful story of The Sleeping Beauty, which is described in detail with enchanting pictures by talented illustrator Nikita Polyansky. At the end of the performance, Lena-Gabrielle finds herself back in her room. Of course, it must have all been a dream. But why is there a beautiful pair of ballet slippers beside her?
Check out some of the gorgeous artwork in this book: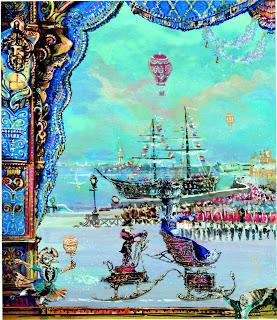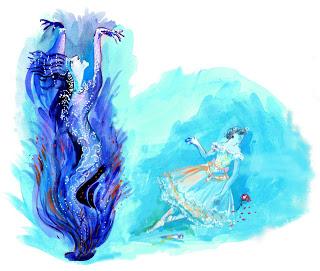 The Sleeping Beauty: A Journey to the Ballet of the Mariinsky Theatre is truly a collector's item that will charm children and adults alike. This book would make a wonderful Christmas present for a special girl in your life. She'll want to read it over and over again, and may even be inspired to attend the ballet or ask for dance lessons! I hope you'll pick up a copy of this beautiful book today. CLICK HERE to order!