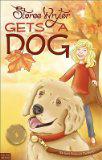 Storee Wryter Gets a Dog is a delightful book about, you guessed it! A girl who gets a dog! It's not your typical girl-meets-dog tale (no pun intended!). Most kids want a puppy, but have little idea about the responsibilities that come with pet ownership.
Carducci lays it out in detail as Storee, an 8-year-old girl who loves to read and write, and her family are approached by a neighbor who has a puppy in need of a home. Kyria, the neighbor, isn't your average 12-year-old, either. She's got a puppy with a purpose. Her dog is a therapy dog who visits nursing homes and classrooms to boost morale, and she wants the puppy to follow suit. Kyria's character is based on the real-life founder of Paws4People foundation, an organization that she began at age 12.
The family discusses the pros and cons of taking on another family member, including how the matriarch, Critique the cat, might respond. Finally, they take on the task and the reader learns about puppy school and what it takes for a dog to be of service. There's a sweet scene when Storee and her dog are ready for their first day at work in a school classroom where young readers spend time quietly reading to the dog, instead of a teacher or classmate. The dog makes a heartfelt impact on one particularly reluctant reader!
Listed for emerging readers in the age range of 4 to 8, the book is better suited for 6 to 10. My young readers ages 5 and 6 sometimes found the book to be too slow moving, and the tight spacing of the words and paragraphs overwhelmed them when they read to me. It got a thumbs down from the 5-year-old, but a big thumbs up from the 6-year-old, who plans to be an animal rescuer one day. She loved hearing the interactions between Storee and her animals.
There's a lot of detail that makes this book more appropriate for a family who is strongly considering doing the same as the Wryter family, bringing a dog into the home. If you have a child who thinks they are ready for a dog, this is a great book for you!
You can find this book on Amazon (click the pic above) or at www.youngvoicesfoundation.org. Carducci is the president of this noteworthy organization that encourages and supports young writers. I love their mission!