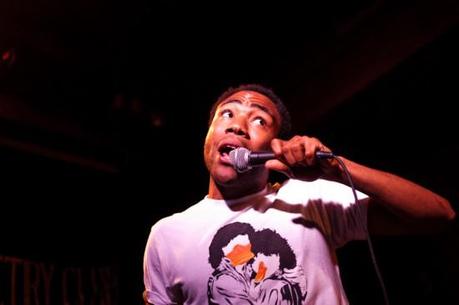 Fashion's Night Out in NYC can certainly be overwhelming. Despite the plethora of free performances by awesome bands, it's sometimes challenging for events to live up to the hype. Childish Gambino (@donaldglover) made it easy, though his late night show was not FNO related and definitely not planned. At around midnight, Donald Glover tweeted that his band was in the LES and they wanted to play a show for free. Everything went down two hours later at a moderately packed Bowery Poetry Club.
Childish Gambino is both classic and unique. His sound is familiar, but his approachable, relatable lyrics have earned him a fan base that skews a little bit more hipster than your average hip hop fan. I mean, when you reference the unrequited love between Doug Funnie and Patti Mayonnaise 10 minutes into your set, you are kind of asking for a specific type of follower.
Luckily, Childish Gambino fans are rabid. I don't think there was a song Glover performed that didn't have the audience shouting the words he was rapidly spitting back at them. He brought the house down with his performance of hit "Freaks and Geeks" and proved that he has a lovely singing voice on "Break," a song that borrows the chorus from Kanye West's "All Of The Lights."
Backed all night by a stellar band that was just as enthusiastic as Mr. Glover himself, the entire set was nothing less then pure, cool fun. As he exclaimed at the end of the night, "That shit was legitimately pleasant." We totally agree.
Photo credit: Ryan Muir

View Photo Album