This is one of those recipes I can't believe I haven't blogged about before.  I make it a lot:  enough that my husband simply refers to it as "the salad."   So I think it's due for a post, especially now that it's summer.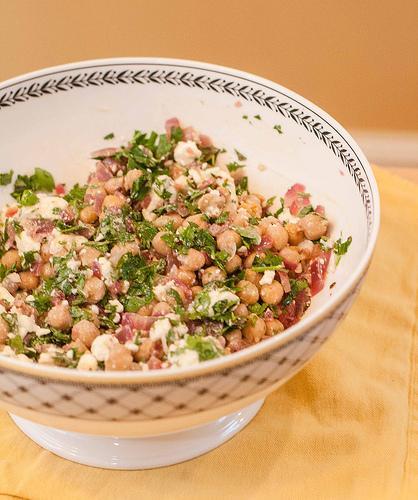 I first made this salad several years ago, from a recipe in Tessa Kiros's Falling%20Cloudberries:%20A%20World%20of%20Family%20Recipes%20">Falling%20Cloudberries:%20A%20World%20of%20Family%20Recipes%20">Falling Cloudberries–but it's so easy that I haven't actually opened the cookbook (for that recipe at least) since.  As they say, it's all "up here" (imagine me tapping at the side of my forehead now, if you please).  Meanwhile, my husband just calls it "the salad"–
What's nice is it is both a filling salad–thanks to the chickpeas, it can be a main meal–and light–plenty of fresh herbs and a touch of hot pepper working their magic.  There's a little sweetness from the sautéed red onions, some richness from the feta, and a unifying brightness provided by a squeeze of lemon.  And while I give precise quantities in the recipe, since it's all "up here," all these measures are really approximations.  It's an easy summer salad that should be easy to make, so just, you know, go with it.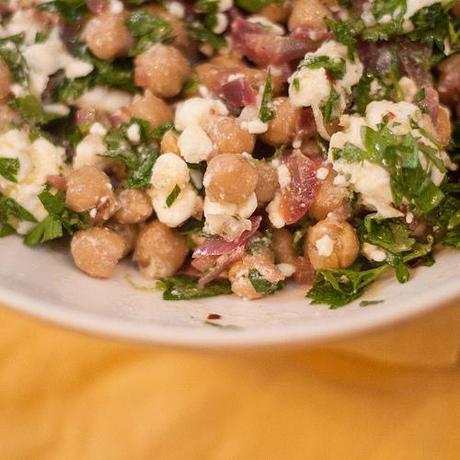 I hate to be that person, so I'm not going to tell you to buy the most expensive brand of feta in the store, but you should definitely buy one that you like, as the cheese is crumbled into the salad and retains its character (and as you can see from the photo, the feta almost insinuates itself into the dressing).  I prefer sheep or goat's milk feta sold in brine (after being thoroughly indoctrinated on the subject by a dear friend from Greece) but go with what you like.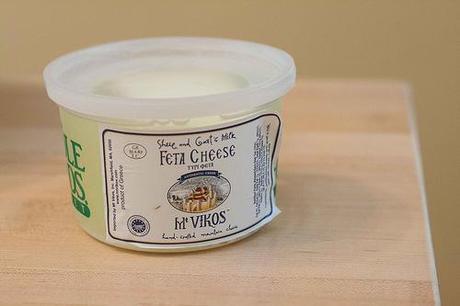 Chickpea Feta and Cilantro Salad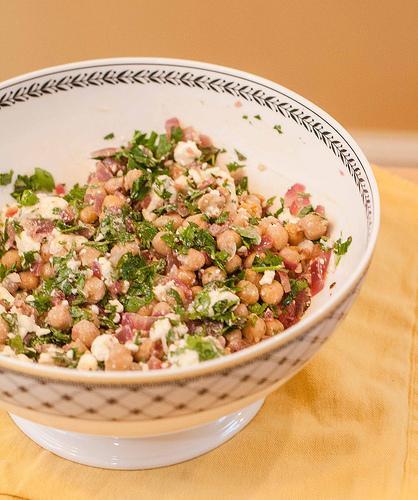 Print
Author:
adapted from Tessa Kiros Falling Cloudberries: A World of Family Recipes ">
Ingredients
1¼ cup chickpeas, soaked overnight, and cooked OR two cans.
½ c olive oil, divided
1 large red onion, finely chopped
1 jalapeno or other pepper, seeded and chopped fine OR ½ t red pepper flakes (or to taste)
5 cloves garlic, chopped fine
juice of one lemon
1 cup feta
½ cup chopped cilantro
1 cup chopped parsley
Instructions
Cook the chickpeas until soft if using dried chickpeas (about 1½- 2 hours). Drain the beans.
Sautee the red onion gently in ¼c of olive oil. If using dried pepper flakes, cook together with the red onion. When the onion has softened and the red has turned to a slightly translucent magenta, add the garlic and fresh pepper if using. Cook for another 30 seconds or so until you can smell the scent of the garlic, and remove from the heat and allow to cool slightly.
Squeeze the juice of the lemon into a bowl. Add the chickpeas and the remaining olive oil, and season with salt and pepper (but be careful with the salt as the feta will be salty). Pour the onion mixture over (including the oil) and stir in. (I like to add while it's still warm to help the flavors meld).
Crumble in the feta, and finally stir in the chopped cilantro and parsley. Adjust for salt, and serve at room temperature.
3.2.1682