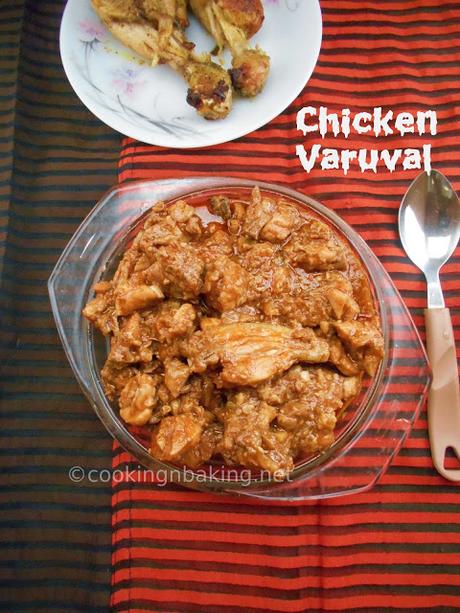 Chicken Varuval
When you really want to make something special using chicken, you can try this recipe as it is really easy and yummy recipe. The gravy is just because of the amount of onion you use. If you need more gravy you can add more onions. Also the consistency I have chosen is thick. You can adjust it by not letting it thicken but reducing the cooking time.
Ingredients:
1 kg of Chicken
20 ml of rice bran oil
1 piece cinnamon
2 cloves
1 cardamom
15 pods of garlic
2 pieces of ginger
3 green chilly
Few curry leaves
1 cup of finely chopped onion
5 tablespoon of kuzhambu milagai powder (ready made)
salt as per taste
20 ml water
Method:
Crush ginger, garlic, curry leaves and green chilly. Heat oil in a pressure pan and add cinnamon, clove and cardamom. Add crushed ginger, garlic, green chilly, curry leaves mix and saute well.
Add finely chopped onion, salt and toss well till onion becomes golden brown.
Add kuzhambhu milagai powder and mix well.
add 20 ml water to toss the masala.
Add chicken and pressure cook for 3 to 5 whistles.
Once pressure comes down, the gravy will have liquid, let it thicken by heating it for somemore time or use it as such if you need more gravy.