Takoyaki is a beloved snack you can find in Japanese cuisine and is an incredibly popular street food delight.
What's in Takoyaki, you ask? Well, the hint is in the name. When you break the word down, it directly translates into octopus (tako) and grilled (yaki), although it is commonly just translated into "octopus balls".
Essentially, they are savory doughballs with an octopus filling and topped with various sauces.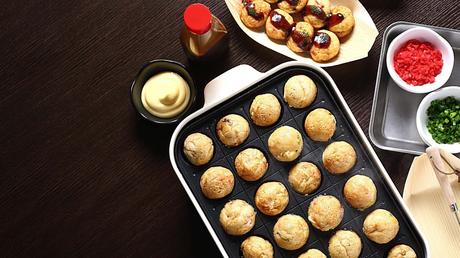 However, modern Takoyaki comes with all sorts of creative and exciting fillings and combinations.
Today, we're going to learn how to make a simple chicken Takoyaki. Here is what you'll need.
Equipment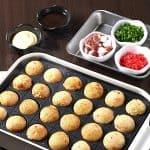 Print
Chicken takoyaki recipe
Takoyaki comes with all sorts of creative and exciting fillings and combinations. Today, we're going to learn how to make a simple chicken Takoyaki. 
Course
Snack
Cuisine
Japanese
Keyword
Chicken, Takoyaki
Prep Time
10
minutes
Cook Time
15
minutes
Total Time
25
minutes
Servings
4
people
Author
Joost Nusselder
Cost
$4
Ingredients
Batter Ingredients
1

cup

plain flour

2

tsp

baking powder

½

tsp

salt

2

eggs

1½

cups

dashi stock
Filling
Chicken

(cooked to your liking and chopped into small pieces)

Complimentary vegetables, chopped

(popular choices are spring onions, cabbage, carrots, but anything goes here)
Instructions
Now that you have all your ingredients at the ready, it's time to make some chicken Takoyaki!

Begin by making the batter. Combine your dry ingredients first, so flour, baking powder, and salt, then add the remaining ingredients and mix them up into a batter. You'll want this batter to be thin and runny, so if your mixture is coming out too thick, feel free to add more dashi stock or even some water to thin it out.

Get your Takoyaki pan or plate on the hob and heat it up on a medium flame. Coat the pan and all the holes generously with some oil. Once the pan starts to smoke, it's time to make some balls.

Fill all the holes of the pan halfway with the batter. Then add your chicken and choice of vegetables to that batter and pour more batter on top, filling all the holes and covering the surface of the pan until you can barely make out the individual holes anymore.

Here comes the tricky part. the Takoyaki to sit in the pan for a minute or two, just so the underside of it sets. Now, with chopsticks or skewers, or whatever you have, begin to fold in the overflow of batter around each hole and then flip the ball around. Now leave that for another few minutes so the other half of the balls can crisp up and brown lightly.

Once both sides are done, remove the Takoyaki onto a plate and repeat steps 3-5 until you have finished all your batter and fillings.
You can use dashi granules to make the dashi, or try one of these dashi recipes instead
Toppings
Just as there is no limit to what to fill your doughballs with, there is also a wide range of toppings to add more flavor and yumminess to your Takoyaki.
The traditional toppings, for example, include Bonito flakes, Japanese BBQ sauce, and Takoyaki sauce. However, you'll find that the sky is the limit here.
Make some sriracha mayo and drizzle it over those bad boys. Or how about some mayo and curry powder? You could even sprinkle some cheese on there.
Also read: here's how to make a more traditional takoyaki with one of these recipes
Variations
This recipe calls for basic cooked chicken, but you could switch this recipe up by making teriyaki chicken and topping the balls with teriyaki sauce.
Or you could make sweet and sour chicken, or spicy chilli chicken. Experiment with what you have at home or try something you haven't before.
Above all, have fun with this recipe and don't get too frustrated.
The hardest part of this process is mastering the folding and flipping technique, but with some patience and practice, you'll be making quality Takoyaki in no time!
Also read: can you freeze takoyaki to keep it fresh?