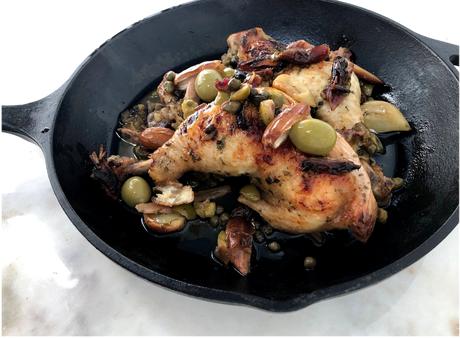 A sweet twist on this rustic, crowd-pleasing dish will have the whole family asking for seconds! Yes, even the kids will love this chicken marbella recipe.
Best part for you? It's a one dish wonder! That's right from start to finish it takes one baking dish to prepare. And a little pro tip, use a pretty (ish) baking dish and serve it directly from oven to table. You can't get easier than that for a weeknight meal!
Okay, the easy clean-up is a major plus but let's talk about the chicken marbella dish itself. Thischic, homey, and oh-so-satisfying entrée can be whipped up in a breeze and takes very little prep & will have the whole family reaching for seconds.
It's surprisingly bright in flavor thanks to the brine from the olives, capers & red wine vinegar. But decadent, and dare I say, a little naughty from the dates & brown sugar. The whole, roasted garlic cloves round this beauty out with that classic, mouth watering aroma that only garlic can so excellently manage.
Know your ingredients:
Reach for the organic chicken whenever possible. Conventional chicken is often fed GMO corn & grains, antibiotics, and even surrounded by sewer sludge used as fertilizer. Let's keep it clean people! Go organic.
As for the sweet twist on this recipe, the dates are a star performer. When possible, get Medjool dates. They are a bit darker & have an incredible caramely (that's a word.) flavor with a perfect, chewy texture. Just make sure to purchase pitted dates or pit them yourselves-we don't want any emergency trips to the dentist.
Chicken Marbella