Chicken Fajita Kebabs
 Jam packed with zesty Mexican flavours, these grilled peices of boneless chicken along with vegetables make a great appetizer or a light weekend dinner.
Chicken Fjita Kebabs are not only delicious and healthy but are super easy to make. Just thread the marinate chicken cubes along with the vegetables into skewers. Grill and enjoy with a squirt of lemon, salsa or your favorite sauce. I like to serve mine with a good homemade Guacamole.
These chicken fajita kebabs can be packed for lunch boxes and as impressive appetisers for a dinner party.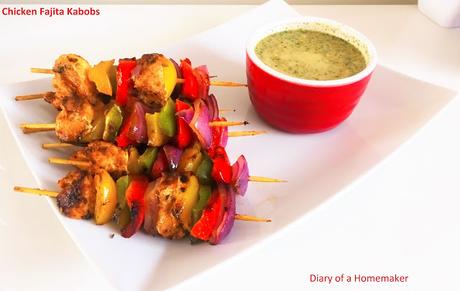 IngredientsQuantity
boneless chicken600g
assorted bell peppers 3
red onions2 
cumin powder11/2 tsp
chilli powderto taste
paprika powder1 tbsp
dried oregano1 1/2 tsp
lemon juice2 tbsp
olive oil 3 tbsp
 garlic powder  1 tsp
salt  to taste
Method:
Follow the step by step photo tutorial given below and learn how to make Chicken Fajita Kebabs.
Marinate the chicken with salt, garlic powder, paprika, cumin powder, chilli powder, oregano, lemon juice and olive oil. Leave in the fridge to marinate overnight or 3-4 hours.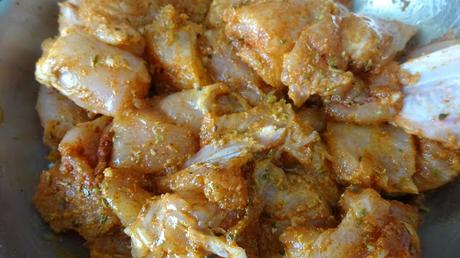 Cut the bell peppers and onions into squares pieces.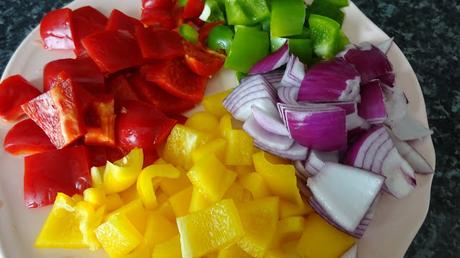 Soak the skewers in water for about an hour. Thread the marinate chicken and the vegetables into the skewers.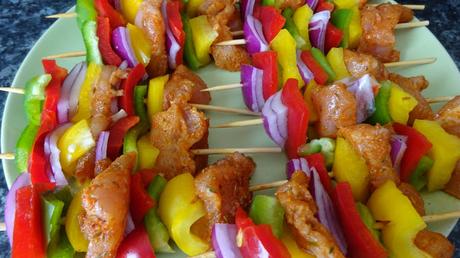 Cook over a hot grill, or grill pan about 8-10 minutes on each side until the chicken is cooked through and has a nice golden brown color to it. The vegtables will also be cooked along with the chicken.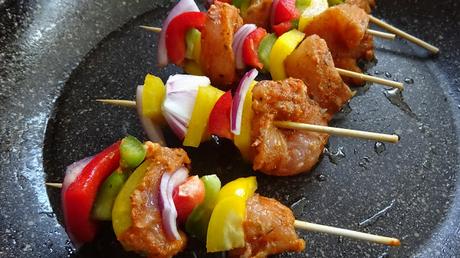 Serve with any salsa guacamole or your preferred dip.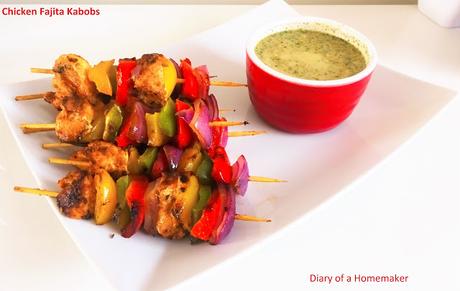 Happy Cooking!