During the Assamese week on IFF's FB group,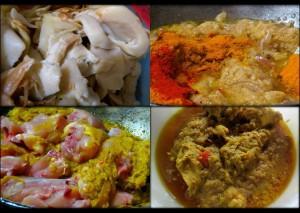 Farah Pasha shared this unique recipe of chicken curry. You can use other fatty meats like pork or beef as well instead of chicken in this recipe.
Recipe:
Ingredients:
1 chicken(1200g)-cut into small pieces
3 large onions, chopped
3/4 cup mustard oil
2 tbs garlic paste
1 tbs of ginger paste
1 heaped tbs of turmeric powder
½  cup grated khorisa/bamboo shoots
Green chilies, to taste
Red chili powder, to taste
Salt, to taste
Method:
Heat mustard oil and fry the chopped onions.
Add garlic paste, ginger paste, turmeric powder and fry till oil separates
Add grated bamboo shoots and fry for 3 to 4 minutes and then add the chicken pieces, green chili , red chili powder and salt as per taste
Stir fry the chicken in high heat for another 3 to 4 minutes. Reduce the heat and cook till the chicken is done.
- Courtesy Farah Pasha