Ever since discovering this recipe for chicken and artichokes in a pot, I have made it at least once a month! This coming from someone who wouldn't necessarily choose chicken legs or thighs. But this simple all-in-one meal is so flavorful we can't get enough! The great thing is: it's also economical.
Although the original recipe calls for two cups of marinated artichoke hearts, I haven't always had them on hand. I have left them and out and made a different vegetable side or you could just as easily add in a different veggie as suits your tastes with success, adjusting the cooking time for the vegetable so it doesn't turn to mush. I also like to serve it with a loaf of our favorite Quick and Easy French Bread recipe.
The original recipe also says to use a mix of chicken thighs and chicken legs but I typically use whatever happens to be on sale! It's an easy way to make use of whatever happens to be selling for a good price. Either way, those two types of chicken are less expensive than chicken breasts. You do want bone-in chicken for this to help add flavor! I use my (Affiliate Link) Lodge Color EC6D43 Enameled Cast Iron Dutch Oven, Island Spice Red, 6-Quart
to take this dish from stove top to oven with little fuss.
This delicious recipe came from a wonderful cookbook (Affiliate Link): Against All Grain: Delectable Paleo Recipes to Eat Well & Feel Great. It also goes by a fancier name: Braised Chicken in Artichoke-Mushroom Sauce. Although it is a Paleo cookbook, there have been many recipes we have made (over and over) because they are so good! Indiana farmer's markets are made for this kind of food: lots of meat, fruits, and vegetables! Mmm.
Chicken and Artichoke One Pot Meal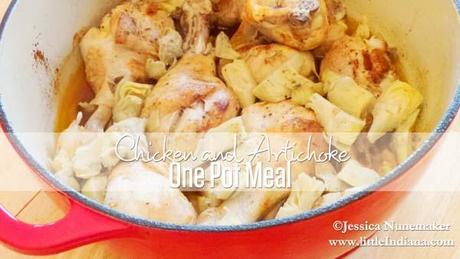 Ingredients
6 Tablespoons Bacon Fat, Ghee, or Unsalted Butter, Divided
2 lbs. Chicken Leg Quarters
2 lbs. Chicken Drumsticks
1 teaspoon Sea Salt, plus more for finishing
¼ teaspoon Cracked Black Pepper
½ teaspoon Paprika, plus more for finishing (use a good quality!)
½ lb. Cremini Mushrooms, Sliced
¾ Cup Chicken Broth
1½ Tablespoons Apple Cider Vinegar
1 teaspoon Honey
1 Tablespoon Coconut Flour (You may sub with All-Purpose Flour)
2 Cups Marinated Artichoke Hearts from a Jar (or homemade)
Instructions
Preheat the oven to 375°F.
Place 4 Tablespoons Butter (or whatever you are using) in a large Dutch oven or stockpot and heat over medium-high heat.
Sprinkle Chicken with Salt, Pepper, and Paprika.
Cook Chicken to the pot to brown for eight minutes, flipping over every two minutes.
Remove the browned Chicken and set aside.
Add remaining 2 tablespoons Butter to the pot, then saute Mushrooms for five minutes.
Stir in Chicken Broth, Vinegar, Honey and Coconut Flour and simmer ten minutes.
Return Chicken to the pot, toss Artichoke Hearts around it, and top with a bit of the Sauce from the pan.
Bake 40 minutes.
After baking, sprinkle on a bit of Salt and Paprika.
http://littleindiana.com/2015/02/chicken-artichoke-recipe/
Small Towns: Destinations, not Drive-Thrus! I'm Jessica Nunemaker and THIS is little Indiana!