...back again to post pics and a little bit about the boys' day at Chichen Itza.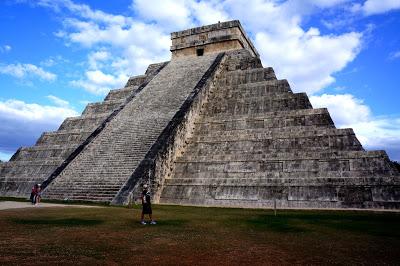 [el castillo]
The guys were up nice and early [6am] to hop on a bus by 7:30am. This bus drove them 3 hours away to an all day tour of Chichen Itza/Mayan Ruins/Ik kil Cenote
Their first stop was to Ik Kil Cenote [a giant sinkhole!] that was about 100' below ground surface and after looking it up online it's a sink hole that the boys were jumping into that is about 130' deep! YICKS!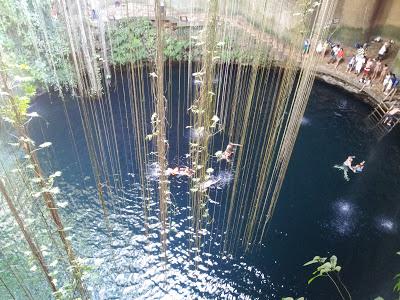 [the sink hole]
They had about an hour and 15 minutes here at this place to jump in the water, swim, take photos- etc.
It was then lunch time in a building where Aaron says there was some REALLY bad dancing going on. I asking "like strippers.. or..." he said "no... just really bad and really random people dancing & whistling". Then I asked "like belly dancers" he again said, "nope..." :/ yup, sounds pretty random and odd.
After lunch they had their tour of Chichen Itza where they learned a ton of really [from what i seems] neat information! Their tour guide "Paco no Taco" [Aaron gives EVERYONE nicknames- its his way to remember people b/c he knows WAY too many people] was really knowledge, entertaining and spoke really good English- he was easy to understand and told great stories.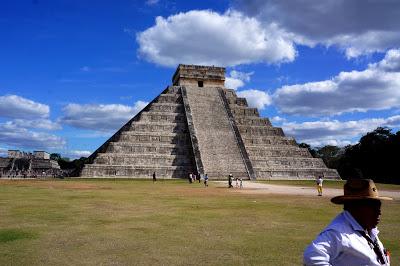 [bottom right: "paco no taco"]
And that was about all that I got out of Aaron, so I will share some of the photos that Kyle sent from his camera.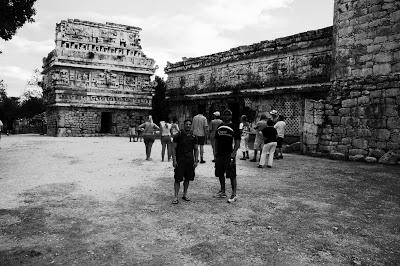 [

kyle & aaron:

i love the old look of this black and white]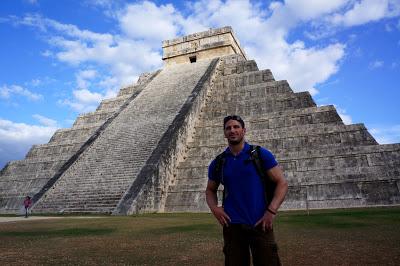 [kyo!]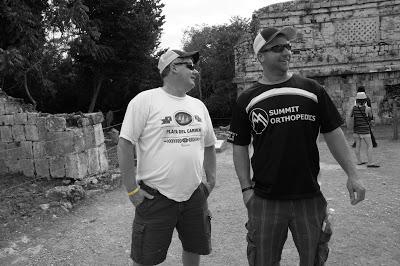 [brad & aaron: bros]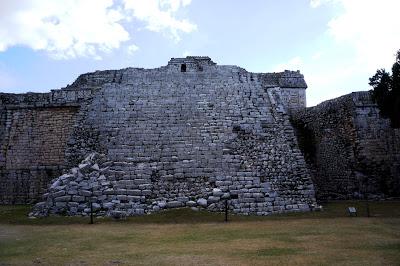 Although all of this looks pretty cool and quite impressive- I was MORE than happy that I didn't go along. This all day tour was just TOO long besides, I would have died in the sinkhole anyway! ;)
See ya tomorrow as we say bye bye [for now] to Mexico...