Do you know the name Alviero Martini?  Or maybe Prima Classe?  Does this help?: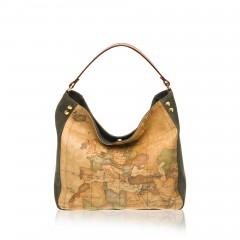 (via alviero martini)
I remember these iconic bags from the early 90s.  I always loved them whenever I saw them…which wasn't often but enough for an impression to form on my mind.  That unique, vintage map design seared the memory cells all those years ago. Yet, I never owned one.  Now fast forward 25 years and I honestly can't tell you when I last saw one being carried.  Maybe in 1995???
Recently they came back on my radar and I wish I could remember the trigger but I can't.  Suddenly they were in my brain and I found myself looking on Etsy and Ebay in search of the "vintage map handbag"–I didn't even know what to call them.  But sure enough, my generic search terms yielded results and before I knew it I was in the world of Alviero Maritini–the vintage world and the current one.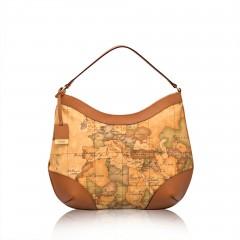 (via alviero martini)
Alviero Martini is an Italian brand…alive and thriving.  These beautiful map motif bags are still being made and are considered part of their "Geo" line (they are a bit pricey but the website does have a sale going on now).  I decided to stay with "vintage" shopping so I have searched on Ebay and Etsy for a "great" deal.
Curiously, why don't I see them around in the big name stores?  Well according to their store locator on the website, they don't have any stores in the USA.  So evidently they don't supply here either?  Just guessing, folks.  They have a huge presence in the Asia and the Middle East which would explain why almost every seller on Ebay was from Japan.  It's very sad because I think they are truly unique and beautiful bags.
Alviero Martini (the man) was the creative genius behind the design.  If Wikipedia can be trusted, he left the company in 2005 and has started a new name "ALV" (Andare Lontano Viaggiando) which again encompasses (pun intended!) travel on his designs–this time using a passport stamp motif.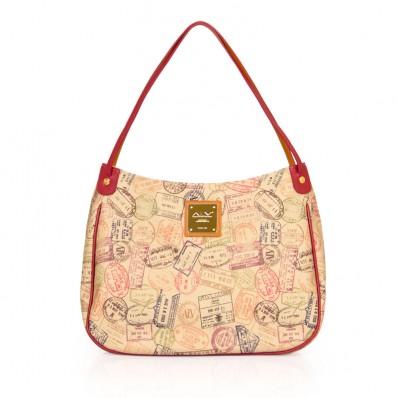 Very cute but I think I prefer the maps.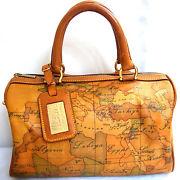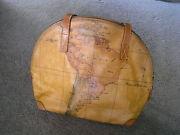 (above are vintage examples from Ebay)
It is always fun to (re)discover something that makes the heart pitter patter a bit faster.
Are you a fan of Prima Classe bags?  I would love to hear your story on how you discovered them.
Monday is up and running–hope you can keep up.
~~Heather~~