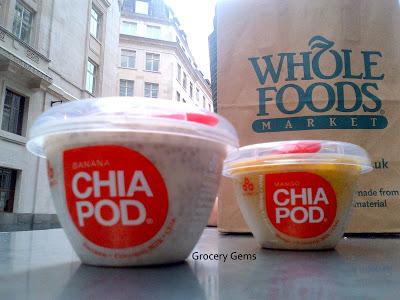 Whenever I head to the Nespresso store in central London, I always take a look at the Whole Foods Market opposite. I'd seen these Chia Pods featured in a local newspaper and had wanted to give them a try. They're an interesting take on the so-called chia seeds craze. Chia seeds have been hailed as a superfood, especially for runners, because of their high protein, omega-3 fatty acids, antioxidants and mineral content. I have no idea if these claims are true or not, but if you want further information then check out THIS article on the BBC News Magazine website.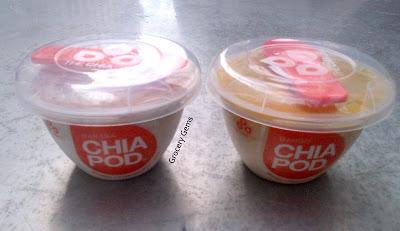 The pudding inspired Chia Pods contain only three ingredients - coconut milk, chia seeds, and real fruit. They're made by Australian based The Chia Co, and come in a few fruity flavours; Mango, Banana, Blueberry, and also a Vanilla Bean version. Whole Foods Market didn't have all of those flavours (I wanted to try the Vanilla Bean) so in the end we chose the Banana and Mango Chia Pods.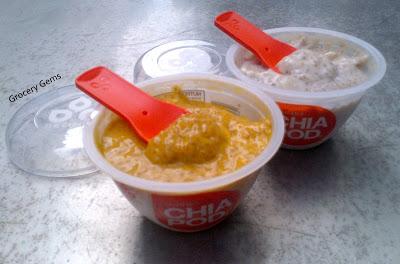 Chia seeds are very small black seeds, a bit like poppy seeds in appearance. Combined with liquid they tend to go soft, and almost gel like, as they absorb it. I enjoyed the texture from the soft seeds as it creates a creamier experience; there's no danger of crunchy seeds getting stuck in your teeth here! My Banana Chia Pod had a very simple and unfussy flavor of blended banana and coconut milk. The seeds themselves do not have a particularly strong ta, adding just a hint of nuttiness. The Mango Chia Pod was not as sweet as the Banana version, and seemed a little bit blander overall. However, it was still enjoyable and extremely filling. In fact it was only when I got home, quite late, that I realised I hadn't eaten anything else apart from one Chia Pod, I just wasn't hungry at all. For a continual grazer like me that is quite something!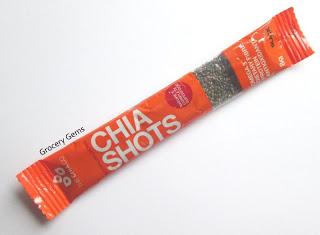 There are also these packets of Chia Seeds available from the same company. They're useful for taking home and adding to your morning cereal, oats, smoothies, salads, bread - really anything you fancy.
Grocery Gems Verdict: Chia Pod

RATING: Banana - 9 out of 10, Mango- 8 out of 10. Buy them again?: Yes.
Nutrition: Banana 161 calories, Mango 149 calories. 
Purchased: Whole Foods Market.