We all need comforting sometimes, no two ways about it.
Sometimes things just seem impossible, unsolvable, futile.
There are many things to take solace in, not all of them positive and though food, most specifically chocolate, may not be the most constructive method around, it does a good job for a lot of people.
So if you've just had one of those days or you're in a complete emotional crisis, a dish with triple chocolate in the title is almost always welcome.
These chewy triple chocolate cookies are lovely and large with big chunks of oozing, melting chocolate both white and dark, with a delicious chocolate dough encasing them.
If you're going to have a surplus of Easter eggs and can still look chocolate in the eye after the big day, these are a great way of eating the extras, of course another option would be, send them to me!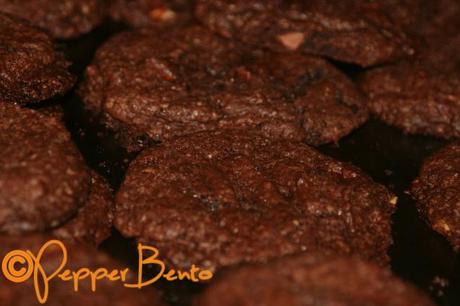 Chewy Triple Chocolate Cookies
Serves 3-4
Ingredients

100g white chocolate bar
100g dark chocolate bar
165g plain flour
110g unsalted butter
200g soft light brown sugar
30g cocoa powder
1/2 teaspoon baking powder
1/2 teaspoon bicarbonate of soda
1 teaspoon vanilla extract
1 free range egg
Pinch of salt
Method
Preheat oven to 190oc and grease two baking tray.
Cut the chocolate bars into medium sized chunks.
Beat the measured butter until creamy.
Gradually add the sugar, beating until light and airy.
Beat the egg and add it in to the mix a little at a time.
Add the vanilla extract and mix well.
Add the flour, salt, baking powder, bicarbonate of soda and cocoa powder and mix until a dough forms.
Fold in the chocolate pieces.
Using a dessert spoon, place scoops of the dough on to the trays, spaced out on all sides.
Gently press each dough scoop with a fork and bake in the oven for 10-12 minutes.
Leave to firm on the baking trays for 2-3 minutes then carefully and gently transfer each cookie to a cooling rack.
Enjoy alone, with ice cream or even a tall glass of milk.