0 Flares
0 Flares
×
New to little Indiana? Subscribe for free to my RSS feed. Thanks for stopping by!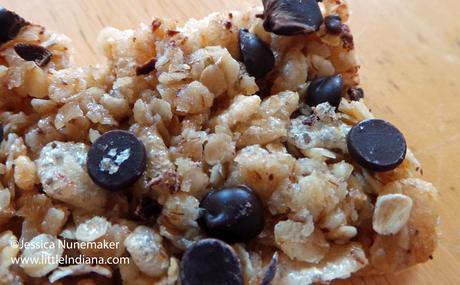 Chewy Granola Bar Recipe
Chewy granola bars are a snap to fix with this no-bake homemade granola bar recipe!
You know those pre-packaged, soft, and chewy little granola bars? The kind with the cute little chocolate chips on top but way too many preservatives in the package?
This recipe is just like those but it's homemade, better for you, and no-bake! It's so easy! I found this winning recipe on Mel's Kitchen Cafe. I can't wait to play around with it and see what else I can do!
Chewy Granola Bar Recipe
Print No-Bake Chewy Granola Bars
Rating: 51
Prep Time: 10 minutes
Total Time: 15 minutes
Yield: 12 Bars
From Mel's Kitchen Cafe blog.
Ingredients
Bars
4 Tablespoons Butter
1/4 Cup Honey
1/4 Cup Light Brown Sugar, Packed
2 Cups Quick Cooking Oats (No Substitution)
1/4 Cup Wheat Germ (Optional, my personal addition)
1 Cup Toasted Rice Cereal
1/2 teaspoon Vanilla Extract
Topping
1/4 Cup mini Chocolate Chips
Instructions
Grease a 9 x 11 pan with cooking spray and set aside.
Stir together Oats and Toasted Rice Cereal in large bowl. Set aside.
In small saucepan, combine Butter, Honey, and Brown Sugar over medium heat.
Cook, stirring often, until mixture bubbles and foams. Let simmer 2 minutes.
Remove from heat and add Vanilla Extract.
Quickly pour hot mixture over the Cereal and Oats mixture until combined.
Pour into greased 9 x 11 pan.
Using either a spatula or piece of wax paper coated in cooking spray, press firmly down on mixture in pan.
Sprinkle on Mini Chocolate Chips and carefully, but quickly, press down.
Cool bars for two hours minimum before cutting into rectangles.
Store covered at room temperate.
Schema/Recipe SEO Data Markup by ZipList Recipe Plugin2.0
http://littleindiana.com/2013/04/chewy-granola-bar-recipe/
Photos are the Property of little Indiana. Do Not Use Without Permission.
Find pictures in Indiana on my Flickr photostream or on the new little Indiana Tumblr blog.
Just don't forget to tell 'em that  little Indiana sent you!
Don't miss a moment. Subscribe to little Indiana and receive instant updates to stay on top of everything "little."
little Indiana: Where to Stay, Play, and Eat in Small Towns in Indiana. Discovering Indiana's best small towns! Now get little Indiana on your Kindle.
Targeted. Relevant. Affordable! little Indiana advertising.