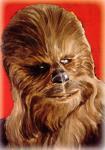 You guys really get excited about hair charity news so whenever I come across anything like this I make sure to pass it along.
Although I just found this I have to say that the video is a couple years old. However Locks of Love and their need for hair donation is still going strong. Locks of Love provide a great service to children suffering from medical hair loss. These kids are going through really tough times and should be shown every kindness. If you have unbleached hair 10 inches or longer you can donate. Read up on their donation requirements here.
Love those Sci-fi guys! They always have that laid back attitude PLUS  some of the most amazing costumes too. I had to share this shot I found while searching for Chewie pictures. Apparently our 6 foot tall walking ape likes his sports. This was probably taken after he overthrew the Empire. That kinda thing takes a lot of time and you need to de-stress.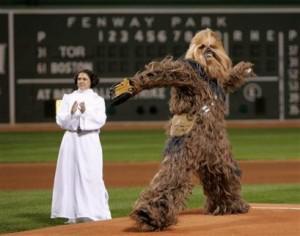 If you would like to help Locks of Love in other ways they can always user financial donations. If your interested in fundraising for them
contact us
for ideas.