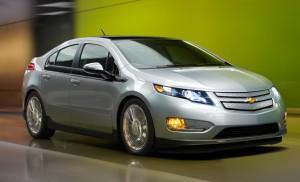 Despite rising gas prices and a sharp jump in February sales (as compared to January), General Motors has temporarily halted production of the Chevy Volt, its plug-in hybrid.
According to NPR, "General Motors will suspend production of its Chevrolet Volt electric car for five weeks amid disappointing sales." The shutdown, which has furloughed some 1,300 workers, will occur later this month and extend through April. GM spokesman Chris Lee points to a decision in California that will allow Volt owners to use the carpool lanes as a possible boon for future sales. Early on, the Toyota Prius and Honda Civic hybrid qualified for similar passes, which enabled drivers of these fuel-efficient cars to drive solo in the high occupancy vehicle lanes.
MSNBC cited another GM spokesperson, Michelle Malcho, as saying that the car maker was planning to keep production in line with sales. "She noted that demand has been recovering in the wake of reports, late last year, that several Volt battery packs had caught fire following federal crash tests." The fires were investigated by the National Highway Traffic Safety Administration, which found them to be problem free. However, the scare is blamed for weak sales in January.
Both outlets report that GM sold 603 Volts in January and 1,023 in February. MSNBC's story included that "GM has promised to ramp up production of both the Volt and the similar Opel Ampera this year, with an initial target of 60,000 units – 75 percent of those vehicles intended for the U.S. market.  Spokesperson Malcho declined to say whether the maker now will miss the 2012 target."
For a little perspective, in a Los Angeles Times article, Aaron Bragman, an analyst with IHS Automotive, noted that the move by GM is not unusual, but the Volt's high profile can be to blame for the press coverage.
[Image source]