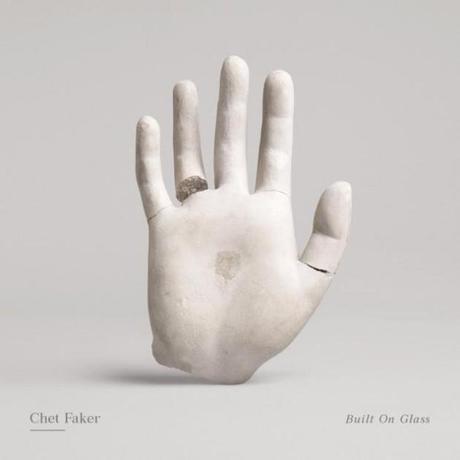 Chet Faker – Talk is Cheap SoundCloud
The cover art for Australian solo artist Chet Faker's debut LP, Built on Glass, might not leap out at you on first glance, but when paired with the content of what lies within the record itself, the artwork makes a lot more sense. The image on the front (which if you're reading this, you've already seen no doubt) is that of a ceramic hand that is dirty, cracked and in desperate need of repair. Despite its ailments and obvious damage, though, the hand is reaching out either to be noticed or to make contact with someone/something. This, in a nutshell, encapsulates the thematic nature and the state of mind behind Built on Glass in more ways than one. He might not be deft at applying subtlety, but what Faker lacks in this department he more than makes up for in feeling, execution and aspirations of growth.
Built on Glass is a very earnest album in many ways, but it doesn't deal out the kind of overly sad and dreary earnest existentialism that many aspiring singer-songwriters have tried to build a career upon. Chet Faker leaves you with the impression that he doesn't exactly get along with himself too well — mainly because he is unsure of who exactly he is or who he wants to be. The way that he addresses this on the album is neither self-pitying nor self-deprecating, but then again this concept of challenging the unknown isn't met with gusto or bravado either. There's a laid-back uncertainty to it all, one that is neither vague nor frustrating, but instead levitates somewhere in the middle with intrigue. All of this applies not only to the lyrical side of his debut but to the musical side as well.
Faker first broke out with a rich, soulful rendition of Blackstreet's "No Diggity" which was then followed by his first EP, Thinking in Textures – a release which not only showcased his voice, but also his ability to blur the lines between soulful R&B and analog indie pop. One side of his first full-length sees him continue in that vein (albeit with much stronger compositions), and tracks such as the syrupy "Gold", "Melt" and lead single, "Talk is Cheap", all cement his knack for crafting catchy pop songs fueled by simple grooves and electric pianos. It's the other side of the LP which really sees Faker as an artist begin to spread his wings. Outside the realm of his proven grounds, Faker goes fully electronic! Although he certainly has some tough competition when it comes to pairing songwriting with the sounds of electronica, the few examples he provides here shows he can certainly hang with the best of them. From the simple vibrating undercurrent of "No Advice" to the dark, dense, digital whirlpool that is "Blush" (complete with deliciously manipulated vocals), Faker truly excels when tearing through this soundscape.
Although his organic, analog approach is more than pleasing to the ear, it's his work in these more synthetic areas which make the biggest impact. The beautiful melt of synth layers, sampling and beefy drum machine beats combined with his smooth vocals and ability to streamline a simple but effective hook, as featured in album highlight "1998″, prove that this is where Faker belongs. It's a natural pairing that has so much to offer, much like the man himself.