0 Flares
0 Flares
×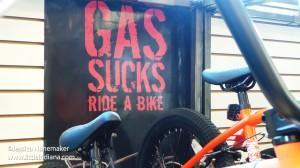 Chesterton Bicycle Station in Chesterton, Indiana
Founded in 1983, Chesterton Bicycle Station in Chesterton, Indiana has come a long way since operating out of a garage!
Moving to a physical location in 1991 (built with the owner's own two hands and plenty of help), it has since become the place for locals and tourists to go to buy or rent a bicycle.
Chesterton Bicycle Station in Chesterton, Indiana
You'll be surprised by how many bikes can fit in this Porter County location! There are racks and racks of bicycles in all shapes, sizes, and colors!
From kid to adult, there's a huge range of items in stock just waiting to hit the open road. Road bikes, mountain bikes, BMX, and even three-wheelers all have a place. You'll find the accessories, too.
Tires, chains, toolkits, pumps, frames, carriers, and carts are just a small sample of the bike-related stuff found here. Our boys walked through and pretty much decided that they would like one of everything.
Chesterton, Indiana Bike Shop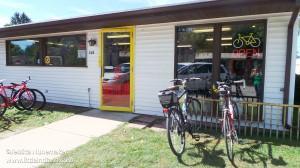 Chesterton Bicycle Station in Chesterton, Indiana
But there's more! The long back counter holds even more wheeled items. Skateboards, as well as wheels and accessories, lie in wait.
Have a wheelchair, buggy, or a wagon? What about exercise equipment? Chesterton Bicycle Station will service them for you, too.
During my visit, I saw a unicycle! It brought to mind our annual neighborhood block party and circus event and great memories of seeing my husband, Jeremy, try out a unicycle.
Go There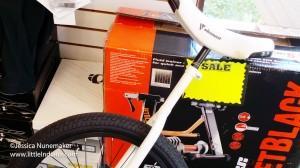 Chesterton Bicycle Station in Chesterton, Indiana
Resist the urge to hibernate this winter–get out there and enjoy it on a bike from Chesterton Bicycle Station in Chesterton, Indiana.
When it comes to wheels, you're in good hands at this unique locally-owned Indiana bike shop.
Small Towns: Destinations, not Drive-Thrus! I'm Jessica Nunemaker and THIS is little Indiana!
Find pictures in Indiana on my Flickr photostream or on the new little Indiana Tumblr blog.
Just don't forget to tell 'em that  little Indiana sent you!
Chesterton Bicycle Station
116 S 4th Street
Chesterton, Indiana 46304
219.926.1112

View Larger Map
Don't miss a moment. Subscribe to little Indiana and receive instant updates to stay on top of everything "little."
little Indiana: Where to Stay, Play, and Eat in Small Towns in Indiana. Discovering Indiana's best small towns! Now get little Indiana on your Kindle.
Targeted. Relevant. Affordable! little Indiana advertising.