My son loves limeade, but he can't have any of this limeade.  It ain't for the kiddos.
One of the great things about summer is the adult refreshments.  Hell, who am I kidding, I can mix a drink for every season on request.  But I digress.
I started getting creative this summer with beverages.  I make a mean rum punch and my new favorite, cherry vanilla limeade.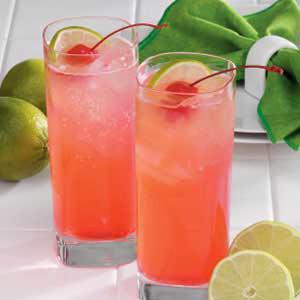 Photo credit: Taste of Home
This is a great sit out on the deck or porch at a cook out drink, but be careful, too many and you might find yourself under the porch.
Ingredients:
2 cans frozen limeade

1 cup 

sugar

2 liters 

lime carbonated water, chilled

1/4 cup Grenadine

8 maraschino cherries with stems

8 lime slices

1 cup vanilla vodka
Mix it:
In a large bowl, mix the limeade, sugar, and vodka.  Cover and refrigerate.  Just before serving, stir in the carbonated lime water.
For each serving add a 1/2 tbspn grenadine, crushed ice, and top with a maraschino cherry and slice of lime.
Now, since this is more of a summer drink, I suggest turning up the heat and playing Bob Marley.  Enjoy!
This post was inspired by the almost world famous Mama Kat's Writer's Workshop.