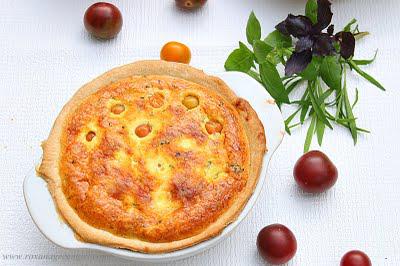 Boy, it's good to be home! Over the weekend I fired my oven like it was the end of the world. Cookies, bread, quick bread, baked rice, zucchini sticks. Poor oven, sure didn't expect that :)) 
Today I'm not going to talk about neither of those, but the quiche I told you about a while back . I love making quiches. They are easy to make and, if you ask me, make the perfect leftover, cold, straight from the fridge.  
Starting April, farmers market open here in Central Virginia.  It's a small one, but i love going every Saturday to get freshly picked veggies and fruits. Almost every time I go I feel like a kid in the candy store when I see the ripe tomatoes. You see, I love tomatoes. If you see me eating them (when no one's around) you might think I don't know the meaning of the word "manner". I simply take a bite like I'd do from an apple.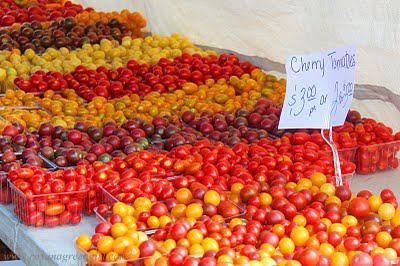 Hubby on the other hand, likes raw tomatoes in salads but you're not going to see him eating raw cherry or grape tomatoes. He doesn't know what he's missing. Here comes the cooking part. Here comes tomato quiche.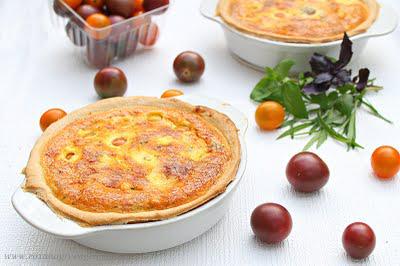 A quiche is similar to a baked custard. While baking the eggs bind together the cream, cheese and the rest of the ingredients. As a basic rule, you have to cook a quiche until raised and set, otherwise it will lose its smooth consistency. 
The pastry crust is made from flour and butter glued with iced water. You are probably familiar with this type of pastry from pies, but the quiche crust is not blind baked prior to adding the filling.  
The filling is most of the time a mixture of eggs, cream and cheese and veggies.
Let's turn the oven on and bake a Cherry Tomato Quiche 
First, make the pastry. In your food processor sift 2 cups all purpose flour, 1/2 cup diced butter and a pinch of salt.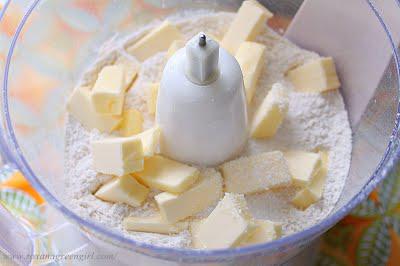 Pulse a couple of times until the mixture resembles breadcrumbs.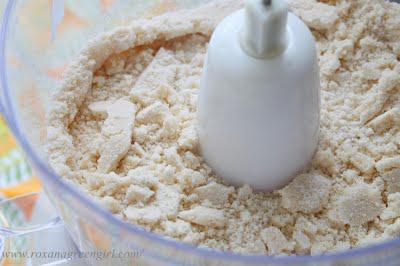 Slowly add, a drop at a time, iced water until the dough comes together and forms a ball. Wrap it in clear film and put in the fridge for 30-40 minutes. Meanwhile preheat the oven at 350F.
When cooled you can either roll it into one big circle to fit a 10inch baking dish or 2 smaller ones.
For the filling you'll need 4 eggs, 1/2 cup heavy cream, 1/2 cup ricotta cheese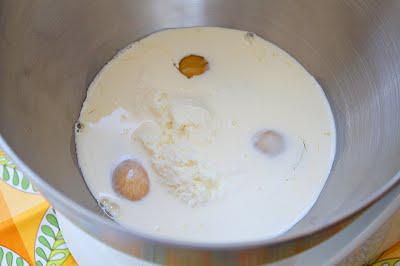 1/2 to 2/3 cup grated Parmesan, fresh chopped basil (or dried if you don't have fresh), salt and pepper.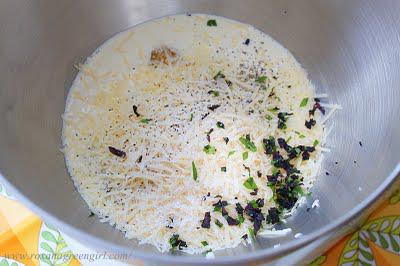 Mix everything and pour into the baking dish(es). Add the cherry/grape (you can use which kind you have) tomatoes (it's up to you how many)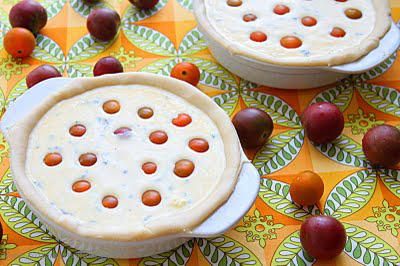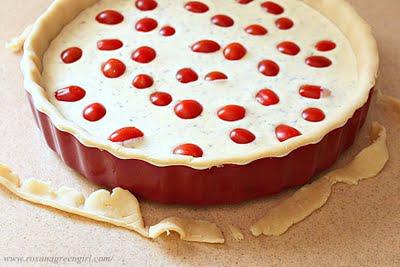 Bake for about 40-50 minutes until set and slightly brown on top. Serve warm or cold.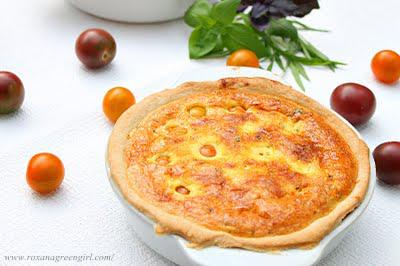 I don't know what happened to the photos I took of the sliced quiche, hope this one helps, it's the only one I have left :(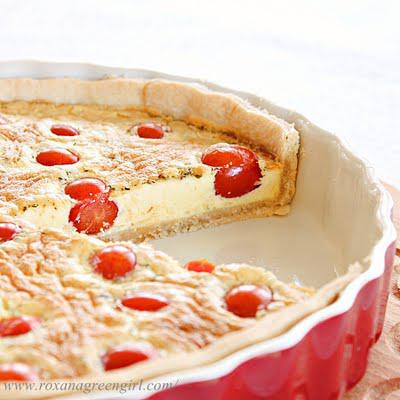 That's about it for today, hope you'll pick some cherry or grape tomatoes next time you visit the farmers market and make this quiche. You won't regret it. Sending you lots of love,