About cherry pancake:
Cherry pancake is a staple breakfast food in western countries, especially with children.It is easy to make and has nutritional benefits that we add fresh cherries in it. You can make it instantly without any pre planning.This moist and fluffy pancakes can be enjoyed with maple syrup, honey or with your favorite fillings. I enjoyed it with the cherry sauce.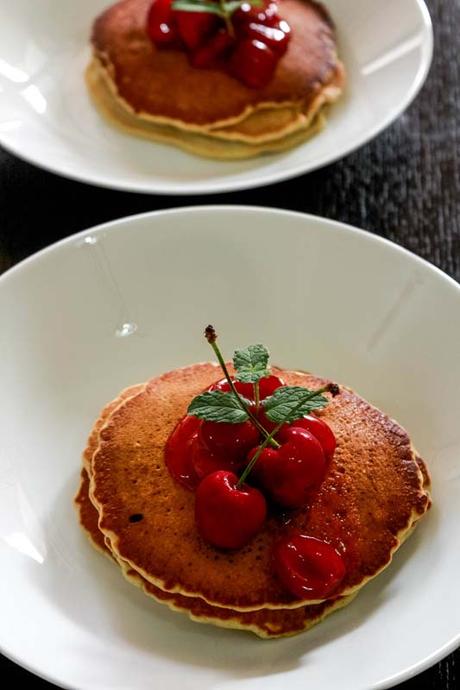 How to serve a fluffy pancake recipe?
Arrange the pancake as much as you need per serving and top it with butter or any fruits and pour maple syrup,date syrup or honey.You can cut and eat with a fork. You can also use dessert topping fruit marmalades, or sauces. My choice is cherry sauce with fresh cherry pancakes.
How to store cherry pancakes?
There is no need to store this pancake recipe. It is made instantly so whenever you need to make it as a fresh batch and enjoy.
Expert tips for cherry pancake using fresh cherries:
Butter: use melted butter instead of oil that will increase the softness of the pancake.
For healthier choice : You can use wheat flour in this same method in place of maida if you are conscious about health.
Sweetness: Adjust the sugar level depending on the sweetness of the cherry you use.
Breakfast recipes:
Vegetable sandwich

Bread omelette

Kuzhi paniyaram

Elai kozhukattai

Vendhaya kanji

Barley kanji
Ingredients to make cherry pancake:
Main ingredient: sour or sweet cherries can be used.
Wet ingredients:  sugar, milk,vanilla essence,melted butter are whisked together.
Dry ingredients: maida, baking soda,baking powder and salt are sieved and added to wet ingredients
Video for healthy cherry pancakes:
How to make cherry pancake:
In a mixing bowl, add 1 cup of maida or all purpose flour,melted butter,sugar and a few drops of vanilla essence.

Whisk well to combine the ingredients.

In a sieve, add ¾ cup of all purpose flour, baking soda,baking powder and salt.

Sieve into milk mixture and fold it using spoon or spatula

Add deseeded and chopped cherries into it and mix.

The batter should be thick and of a pourable consistency.

Heat a pan, grease with butter and wipe off.

Pour a ladle of batter and drizzle some ghee or melted butter on the sides.

Keep the flame low.you can see many pores fully on the pancake.

Now flip gently to the other side and cook.

It will cook within 1 min.

Serve with your favorite fillings.
FAQS:
Are there any tips for fluffy pancakes?
Make ready the batter and let it sit for 10 minutes before making the pancakes. Also you can add ½ tsp of lemon juice or vinegar.
Can diabetic people eat cherries?
Yes we can eat but we need to focus on the portions we take and also make sure to eat fresh ones. Canned cherries and dried cherries have a surplus amount of sugar in it.
Both baking soda and baking powder necessary to make pancakes?
You can skip either one of them. You should use either baking powder or baking soda alone.