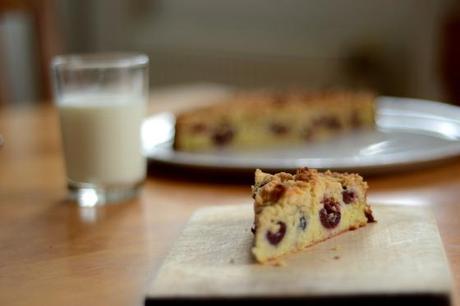 This recipe is from "gorgeous cakes" by Annie Bell. I actually made this cake back in august when it was still cherry-time but you can use canned and pitted cherries quit as well.
What I personally love about this cake is that it doesn't contain much sugar (I normaly cut half the sugar of most recipes, but not for this cake). The other thing I love is that there is lemon zest in the dough what makes the cake a tiny bit sour. The result is a perfect mixture of sweet and sour. Always remember to only use the zest of organic lemons and even then you should rinse them with hot water before using. I hope you can still enjoy this lovely summer cake in early fall. :)
Ingredients:
Cake:
• 100g butter
•100g golden caster sugar
•1 egg
•90ml milk
•125g flour
•1 1/2 teaspoons baking powder
•finely grated zest of 1 lemon
•250g cherries (or black cherries), pitted
Crumble:
•90g flour
•50g golden caster sugar
•1/2 teaspoon ground cinnamon
•90g butter, chilled and diced
•25g organic oats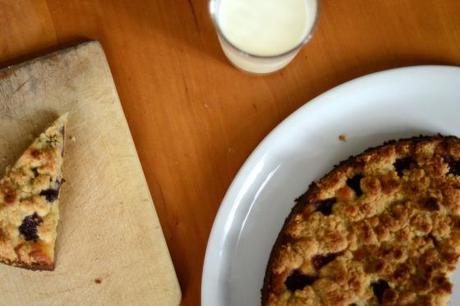 Preparation:
Preheat the oven to 180 degree and butter a 20cm cake tini 9cm deep with a removeable base. To ameke the cake, cream the butter andsugar in a food processor until light and fluffy. Add the egg, then incorporate the milk, flour, baking powder and lemon zest. Spoon the mixture into the prepared tin and smooth the surface.
To make the crumble, combine theflour, sugar, cinnamon and butter in a food processor and whizz until the mixture starts to form large crumbs (or do this by hand). Transfer the mixture from the food processor to a bowl and stir in the oats.
Scatter the cherries over the surface of the cake, top with the crumble mixture and bake for 55-60 minutes (for me it didn't take that long, but it depends on the oven) or until a skewer inserted into the center comes out clean. Run a knife around the edge of the cake.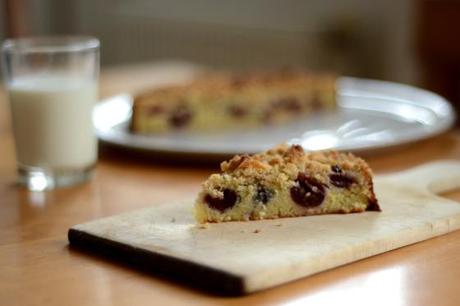 Enjoy it warm! :)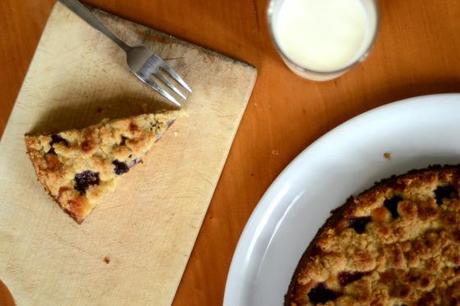 Noemi :)