I am not a saree person, but still I came up with this post. One of my friends recently attended a Pakistani wedding. She managed to grab more attention than the bride in her classic Indian attire - the silk saree! Funny but true!
Ask any Indian woman about her dream
Indian saree
 and the only answer that you would most probably be expecting is Silk Saree. And if you want to buy authentic Indian silk sarees then you need to go down south. The southern part of India is famous for silk sarees and you will hardly find any woman visiting this part of the country returning back without a silk saree. Sarees are the only dress which both reveals and covers a woman's sensuality and beauty in a perfect manner. If worn perfectly a saree can make a woman look like a goddess of sensuality and beauty. And if you want to buy a saree that brings out the best in you, then the best place to visit is Chennai Silks.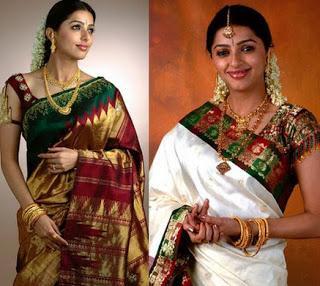 Actress Bhumika Chawla all decked-up in a beautiful silk saree
Chennai Silks has been the undisputed kings of silk sarees. Their patterns are unique because they are a mix of contemporary modern style and authentic traditional design. There are so many varieties and designs of sarees that it is very difficult to chose one that you think is the right fit for you. Each and every one of the sarees that are available in Chennai Silks will make you feel that they are tailor made for you. 
No wonder Chennai Silks is both loved and hated. Women love Chennai Silks as it fulfills their desire to own their dream saree and their husband hate it as they know that they will be having a tough time once they went inside the stores with their wives.