I'd never been to the Chelsea Flower Show before.  The thought of large crowds blocking what I want to see has always put me off.  That and being pestered by celebrities.  But when I was offered the opportunity to go, I snatched it with both hands and felt pompously important with my Press Pass.  (I needn't have, virtually everyone else had one too).
Here is just a little of what I saw on my big day out.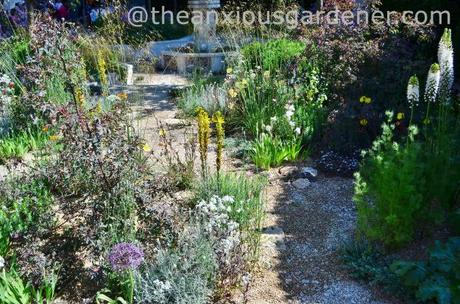 Of the Show Gardens, I particularly liked Cleve West's 'The M&G Garden'.  There is a similar area of gravel at the Old Forge (one of the gardens I work in) which I have recently started to plant.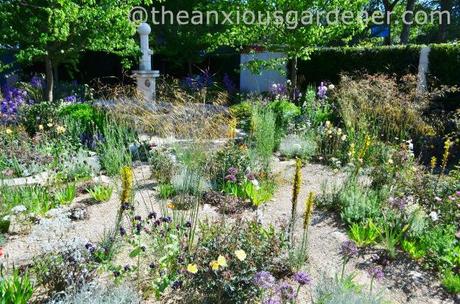 There were plenty of ideas here for me to filch and use.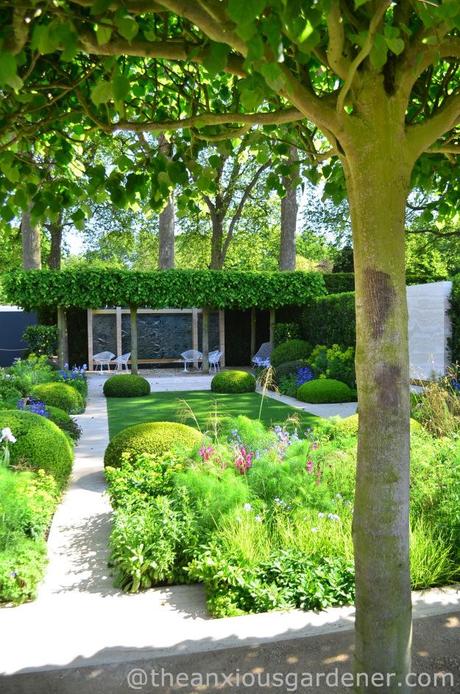 The pleached limes in 'The Telegraph Garden' were magnificent.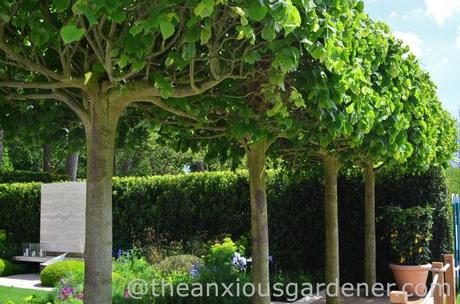 I've tried to convince the Priory owner to let me plant some.  Hopefully I've just won my argument.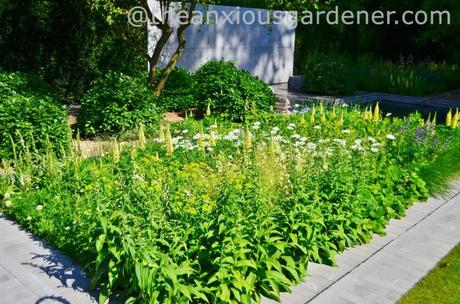 The 'Laurent-Perrier Garden' was cool and alluring on a scorching hot May day.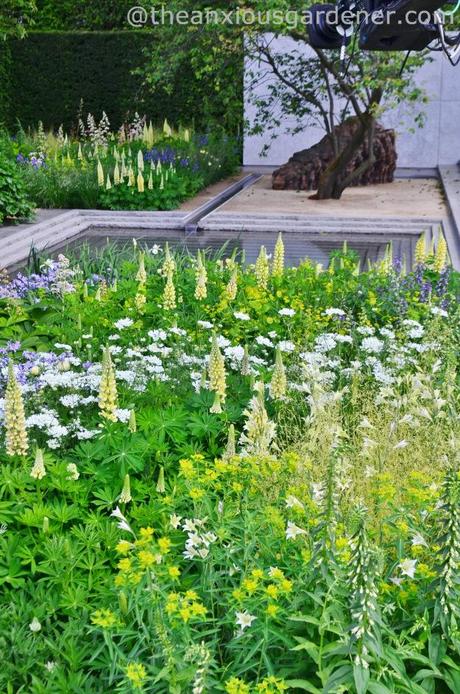 What might have proved insipid was actually very effective: a combination of yellows, whites and pale blue.  And green.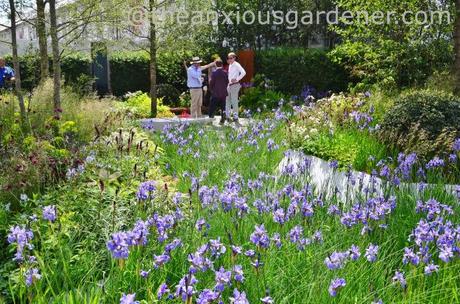 This stream of irises by Hugo Bugg caught my eye too.  Though he and his pals could have moved out of shot.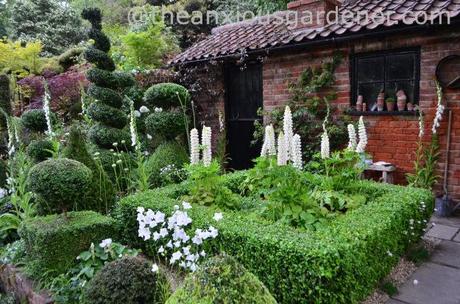 The Topiarist's Garden
Generally, I preferred the smaller Artisan Gardens -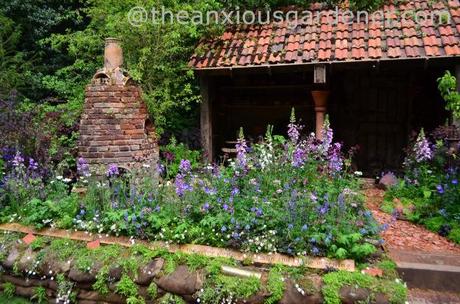 DialAFlight Potter's Garden
they seemed more intimate and less monied; less corporate HQ.  And they seemed to attract less media attention – which suited me fine.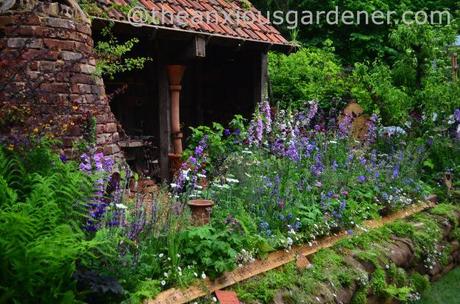 And the 'Potter's Garden' had somewhere cosy to sit with a mug of earl gray on a drizzly afternoon.  A must for any garden design.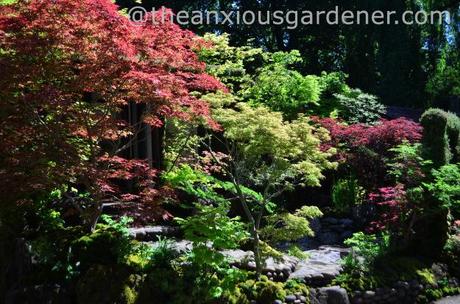 I loved 'Togenkyo' (also in the Artisan Gardens) where the acers were on fire (not literally)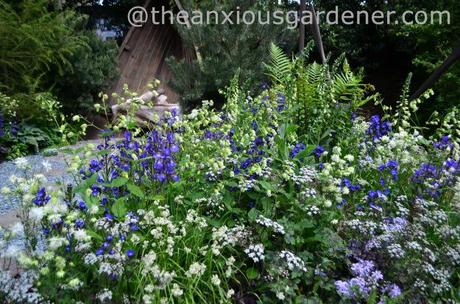 whilst Viking Cruises 'Norse Garden' was almost chilly in comparison.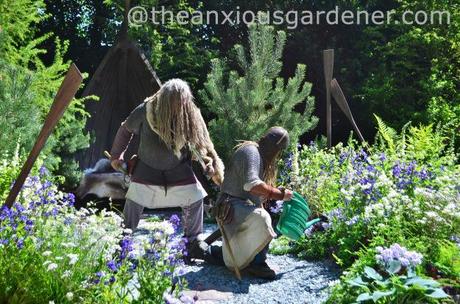 And it featured a sight you don't often see: a viking in full battle gear … with a plastic watering can.

Marching delphiniums
But it was the show tent where I truly became absorbed (and spent most of my day).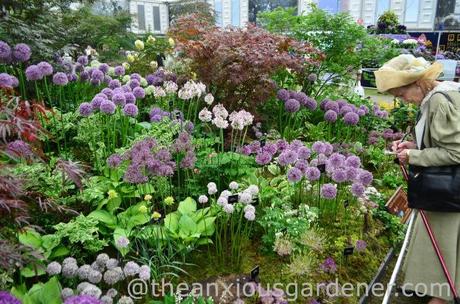 I was absorbed by plants mostly, like these aliums; but sometimes simply by a quite marvelous hat.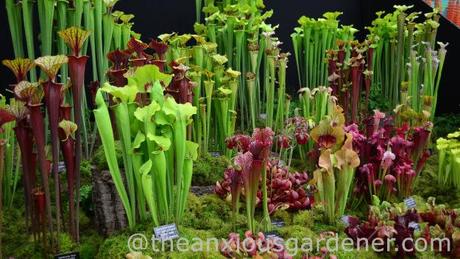 Personally, it was interesting which displays drew me in and which I passed with hardly a glance (sorry hyacinths, sorry veg).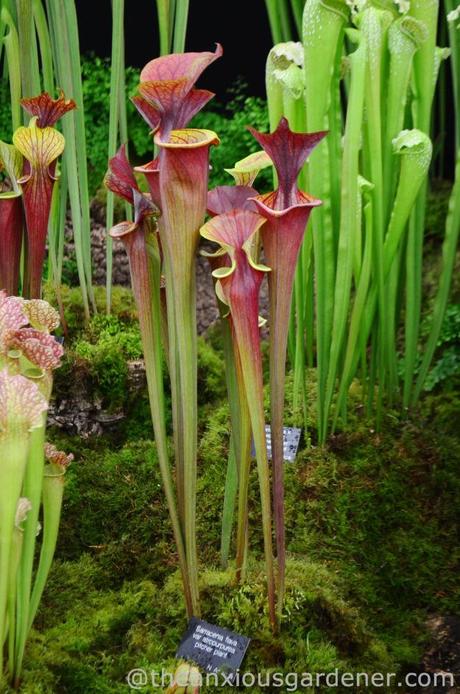 I'm rubbish at growing sarracenias – this is how it's done.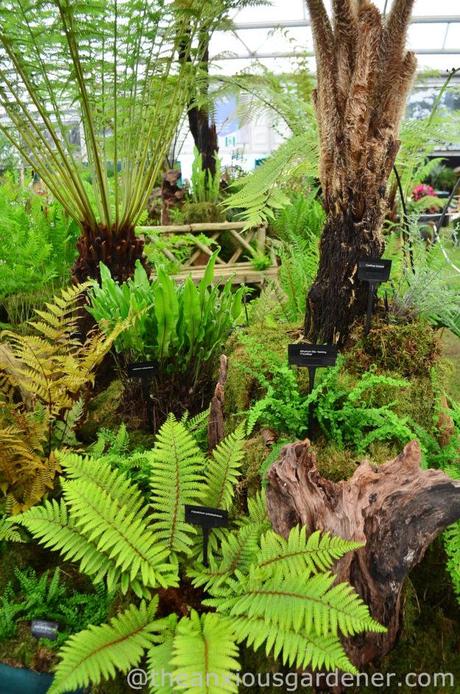 A life long fascination with ferns had me enthralled by Rickards Ferns, and I spent an age mouthing unpronounceable names.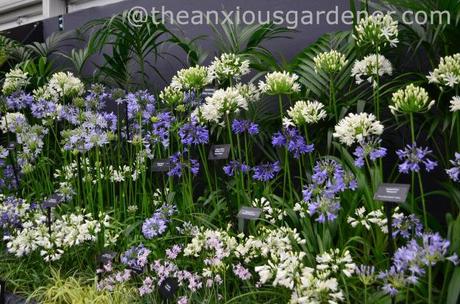 Agapanthus is another favourite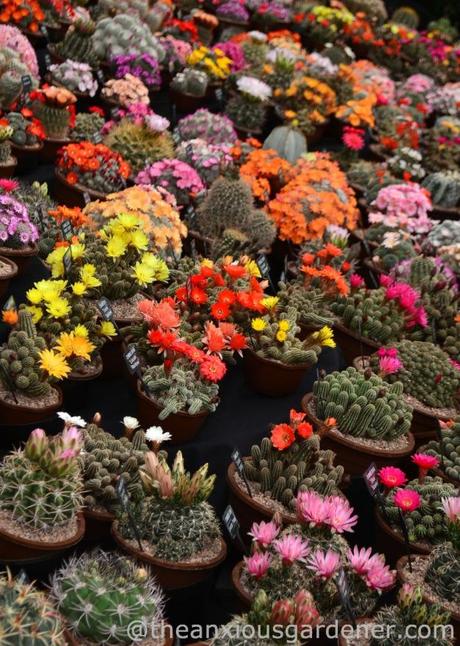 as are cacti.  I idly wondered whether these were fake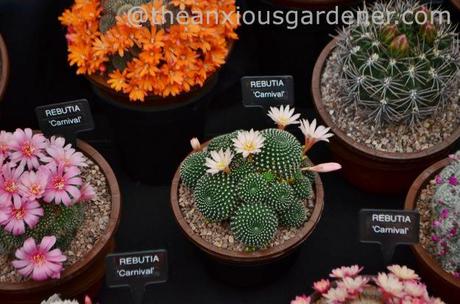 such was their perfection.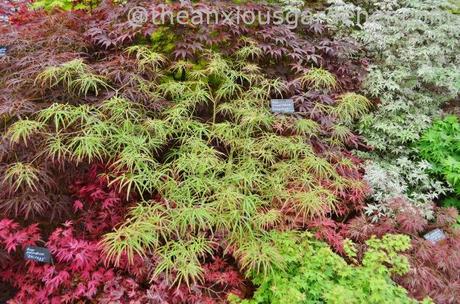 An acer stand is always going to reel me in and I've feverishly scribbled down the name of this one with its finely cut leaves: Acer linearilobum 'Scolopendrifolium'.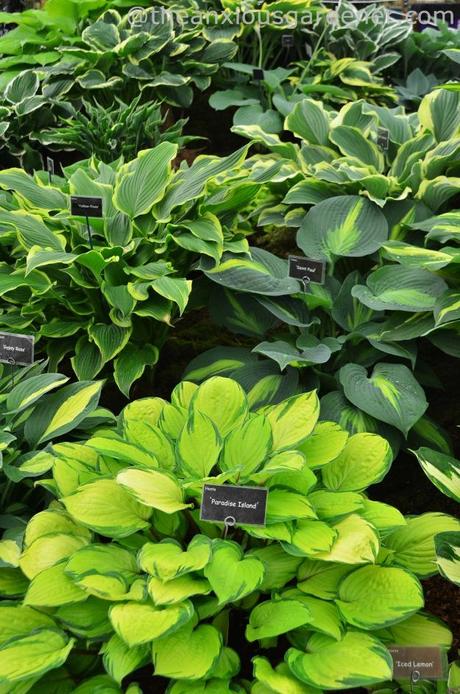 Hostas have started doing it for me too.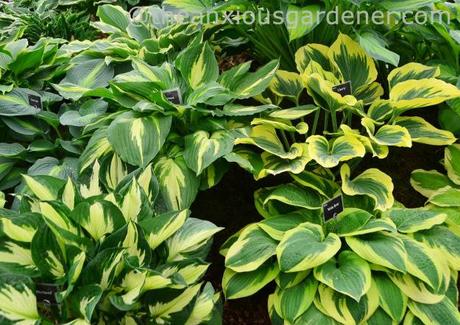 There were such a huge variety; from the large leafed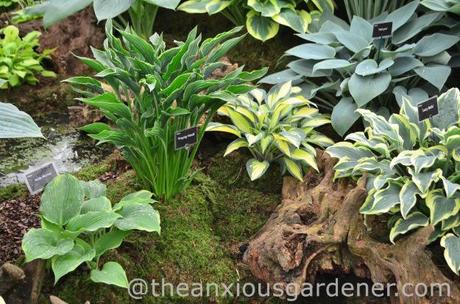 to the dainty.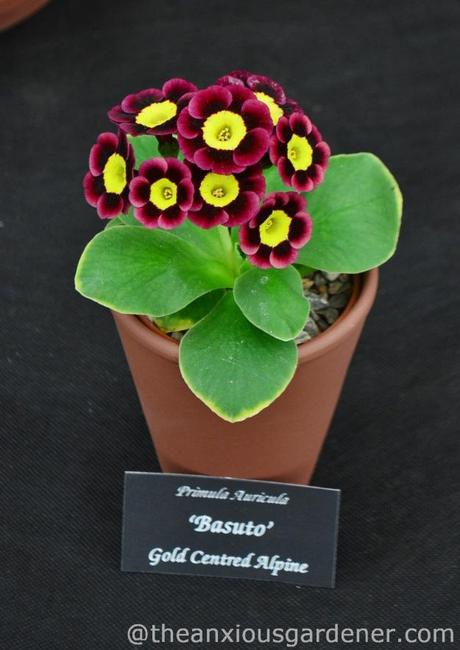 I spent an unseemly amount of time with the auriculas of Drointon Nursery.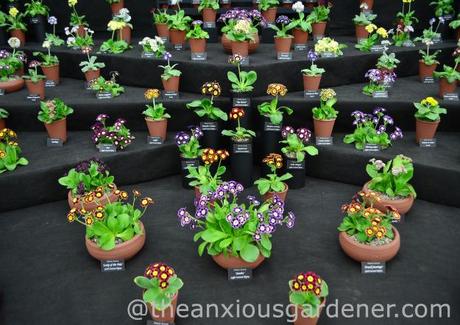 I stood, hugging my arms and rocking, until people stopped to stare.  I feel another collection coming on.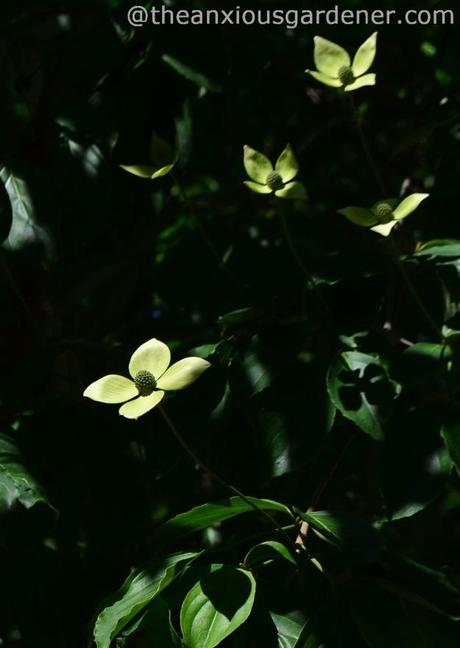 A flowering dogwood not even part of the show. Just quietly looking gorgeous in a backwater of the ground
A particular highlight for me yesterday was meeting a babble/a broadside/a blather/a verbosity of bloggers – whatever the collective noun might be.  (Please feel free to add your own suggestion).  This was a first for me: chatting and laughing with people who write blogs.  Some of them I've known for several years 'online' so it was a little strange to meet them for real.  And do you know what?  They were all perfectly friendly, jolly nice and relatively normal.
Odd isn't it?  I travel all that way and didn't return with one plant.  Just some new friends.
oooOOOooo
The garden bloggers I met were:
Alison (The Blackberry Garden)
Celia (Purple Podded Peas)
Harriet (Whichford Pottery)
Helen (The Patient Gardener)
Mark and Gaz (Alternative Eden)
You may wish to read their accounts of Chelsea 2014.