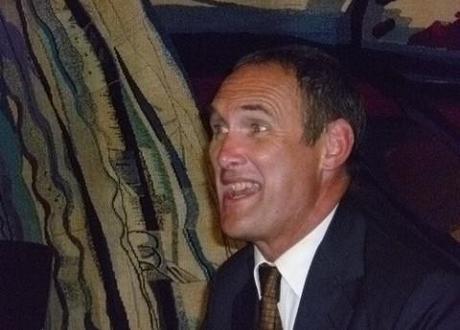 AA Gill. Photo Credit: Christchurch City Libraries http://www.flickr.com/photos/christchurchcitylibraries/5716958126/sizes/m/in/photostream/
A chef at the River Cafe restaurant in Glasbury-on-Wye admitted attacking a coworker after restaurant reviewer AA Gill reportedly called his food "disgusting" at the end of the meal. Prosecutors allege that Charlie McCubbin threw a punch at kitchen worker Kevin McVeigh and pushed him down some stairs after hearing the comment made by The Sunday Times critic.
Brecon magistrates court heard McCubbin admit to assault and causing harassment, alarm or distress. However, McVeigh decided not to press charges and so the 52-year-old chef received an 18-month conditional discharge and was fined £85 in costs. A psychiatrist blamed his violent outburst on mental exhaustion. McCubbin has now returned to work in the restaurant after patching things up with McVeigh. "Keith is a mate of mine. I've apologised and there are no hard feelings," said the chef after the hearing.
Despite his initial reaction, Gill, who ate a £25 meal of antipasti, crab tart and lasagne, later gave the restaurant four out of five stars in his review for The Sunday Times. He praised the food but called the service "about as quick as a Welsh pub quiz". He is known for his savage wit but has been criticised in the past for insensitivity towards various groups, infamously calling the Welsh "pugnacious little trolls" in 1998.
"I've been compared to Gordon Ramsay but sometimes I make him look tame," said Chris McCubbin after the hearing.
Should McCubbin have got off so lightly? Is there any excuse for this kind of behaviour?
Extraordinary pressure. Working in a high-stress atmosphere where reputation is everything and tempers tend to be short anyway appears to be at the roots of teh chef's outburst:  "[McCubbin] blamed the stress of working a 17-hour day during this year's Hay literary festival for his conduct," said Fred Attewill, writing in Metro. BBC News quoted the psychiatrist who assessed McCubbin as saying, "[H]e is a man who has simply worked to exhaustion point and snapped."
No excuse for violence. Such excuses did not hold up with some people: "[H]owever much pressure you're under to keep up standards, and however bad a review you get (or don't in the end), it doesn't justify physical violence and threats to kitchen staff," remarked Lennie Nash in his blog Chef Sandwich. Prosecutor Helen Tench was quoted by The Daily Mirror declaring that McCubbin "appeared intoxicated".
AA Gill's fault. On Twitter the finger of blame was firmly pointed at the restaurant critic with one user commenting, "AA Gill has confessed before to shooting baboons; now he's incited a chef to attack a kitchen worker." Where will it end, Gill?