New to little Indiana? Subscribe for free to my RSS feed. Thanks for stopping by!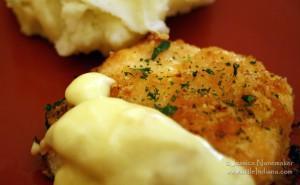 Cheesy Chicken Recipe
This Cheesy Chicken Recipe with Sauce is absolutely delicious! We used it on the chicken and even mashed potatoes.
It's so easy to make and yet–this Cheesy Chicken looks so good it even works for company. I like a recipe that's all flexible like that.
It all begins with Ritz crackers. From there? It only gets better!
Cheesy Baked Chicken and Sauce Recipe

Print Cheesy Baked Chicken and Sauce
From Food.com.
This is easy and simple enough to make for every day--yet such great presentation makes it perfect for company!
Ingredients
5 Chicken Breasts
1 Sleeve Ritz crackers
Salt and Pepper, to taste
1/2 Cup milk
3 Cups Shredded Cheddar Cheese
1 teaspoon Parsley, Dried
Sauce:
1 14 ounce can cream of chicken soup
2 T butter
2 T sour cream
Instructions
Chunk up the Chicken so it cooks easily.
In a food processor or a plastic bag, process the Crackers into crumbs.
Put the Milk, Cheese, and the Ritz Cracker Crumbs into 3 different bowls.
Season the Chicken with salt and pepper.
Dunk the Chicken into the milk, then the Cheese, and then the Crumbs.
Place in greased 9 x 13 pan.
Sprinkle with Parsley, if desired.
Cover pan with foil and bake 400* for 45-45 minutes or until Chicken is completely cooked through.
I removed the foil for a portion of the baking time to brown it up.
Sauce:
Combine Cream of Chicken Soup, Sour Cream, and Butter or Margarine in saucepan and heat through.
Serve with Chicken.
Schema/Recipe SEO Data Markup by ZipList Recipe Plugin2.0
http://littleindiana.com/2012/02/cheesy-baked-chicken-sauce-recipe/
Photos are the Property of little Indiana. Do Not Use Without Permission.
little Indiana: Where to Stay, Play, and Eat in Small Towns in Indiana. Discovering Indiana's best small towns! Now get little Indiana on your Kindle.
Targeted. Relevant. Affordable! little Indiana advertising.