Cheese
. I love it. Time for some fun, it's a 'feel good' foodstuff. Let's go cheeseboarding.
Everyone has heard of Laughing Cow cheese (
la vache qui rit
) but cheeses from other animals of origin have been slow to join the happy parade. For instance, what about Chortling Goat (
la cabre risueno
)? Or Sniggering Sheep (
le mouton riant sous cape
)? Where are they? Some intrepid farmers are even producing pig's milk cheese...Giggling Pig anyone (
porcellus cachinnabilis
)? And in Sweden they milk the Mildly Amused Moose and turn that into cheese. So what else could intrepid cheese-manufacturers conjure up? Howling Horse Halloumi perhaps? Tittering Buffalo Brie? Any takers for Psychedelia Smith's mind-blowing Unicorn Cheesecake recipe? OK - stop the blog, I want to get off!
Seriously, cheese has to be one of my favorite foods. I eat it every day. A good ripe Camembert with a crusty baguette is a meal in itself. Feta with olives and tomatoes can't be beaten. A piece of Blue Stilton and a glass of port are the perfect way to end a dinner party.
All cheeses start out as milk, most commonly cow's or sheep's. Then with the coagulation of the milk protein casein, triggered by the addition of an enzyme - usually rennet - plus the way they are treated as they solidify and mature, many with bacteria or moulds added,  they become the diverse array of shapes, colours, textures, aromas and flavours that comprise the tantalising array of over 1,000 classified cheeses. At a portion of cheese a day, it would take over three years to sample every different one.
The making of cheese dates back at least 5,000 years. The earliest known evidence comes from Poland where utensils containing sheep's cheese residue have been found and there are references to it in early Greek and Roman literature. For instance, the Cyclops in Homer's Odyssey was a cheese-maker and had racks of sheep's cheese maturing in his cave.
Cheese is portable, relatively long-lasting (compared to milk) and very versatile. As long as it is not eaten to excess, it's an excellent foodstuff, rich in fat, protein, calcium, phosphorus and many vitamins. Soft cheeses are generally thought to be better than hard cheeses as they are lower in saturated fat but there is no conclusive evidence that eating cheese in moderation raises bad cholesterol levels. In fact in controlled trials in Denmark recently it was found that older people who were given a couple of slices of cheese for breakfast each day over a six month period were on average both happier and healthier than those who had  no cheese at all.
Eat cheese, be happy - but not if you're a mouse, apparently. The notion that mice like cheese turns out to be something of a myth. They will eat it if there's nothing else around but they much prefer dried fruit and grains. It is thought that mousetraps were primed with cheese in the belief that the smell would attract the rodents. In truth, they're much more likely to go for a tasty sultana.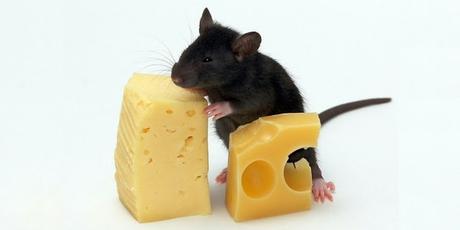 This handsome fellow knows a good Havarti when he sniffs one - but he'd rather have a sultana!
As to the old wives' claim that eating cheese before bedtime causes dreams, that's another myth ripe for the shattering. There is no scientific evidence to support it.
I did toy briefly with the idea of writing
Ode To A Wensleydale
( "My stomach rumbles, as a gnawing hunger pains my sense..." etc), but thought better of it. I couldn't get the image if Wallace & Gromit out of my mind. So no poem I'm afraid.
Instead, I bring you this week's fabulous Cheeseboard Top Twenty Chart courtesy of world-renowned cheese-jockey Tom Fromage, including two non-movers and four new entries (last week's positions in parentheses). Yum!

1   (1)  
Camembert
(France)  Of all the world's great cheeses there's none that can compare!
 2   (2) 
Stilton
(England)  Best blue on the planet.
 3 (11) 
Feta
(Greece)  Shooting up the chart on account of its healthy credentials.
 4   (3) 
Gruyere
(Switz)  Always a rich and tangy delight.
 5   (5) 
Parmesan
(Italy)  King of Italian cheeses, grate with everything.
 6 (13) 
Epoisses
(France)  Smelliest of the smelly - banned on the metro - but tastes just fine.
 7   (8) 
Chevrotin
(France)  Flying the flag for the goat.
 8   (4) 
Mozzarella feat. Buffalo
Girls
(Italy) Slipping slightly but still a subtle treat.
 9 (12) 
Reblochon
(France)  Former number one making something of a come back.
10  (7) 
Gouda
(Neth)  Consistently the top cheese from the Low Countries.
11(14) 
Cheddar
(England)  When it's on its best form, it's one of the best.
12  (-)  
Milleens
(Eire)  Highest new entry, a soft and pungent Irish beauty.
13  (9) 
Chaumes
(France)  Gloopy dream of a pongy cheese.
14 (10) 
Pont L'Eveque
(France)  The authentic odour of the cowshed.
15  (6) 
Crackerjack feat. Jalapeno
(USA)  Monterey Jack with chillis, on the slide.
16   (-) 
Sulguni
(Georgia)  Fabulous new entry - a pickled cheese.
17 (20) 
Beacon Fell
(England)  Local Lancashire talent on the rise. 
18   (-) 
Limburger
(Belgium)  Goes a treat in a club sandwich.
19   (-)  
Pecorino
(Italy)  Doing it for the sheep. 
20 (17) 
White Stilton feat. Cranberries
 (England)  A novelty beginning to fade fast.
Bubbling under...
Raclette
(Switz)  Perfect for that après-ski fondue.
As if that wasn't enough, here's a musical link to Robyn Hitchcock's cautionary tale:
The Cheese Alarm
Thanks for reading. I wish you a tasty week, Steve ;-)
Email This
BlogThis!
Share to Twitter
Share to Facebook
Reactions: