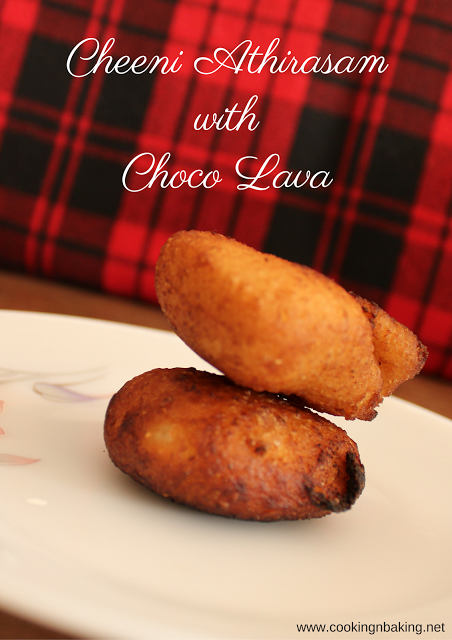 It was a lazy Sunday, I was feeling feverish. All at home went to the temple pretty far away. I knew they all would be back only by noon. Had my breakfast and was watching some movie. I started feeling lonely and the first thing I would do is either cook or bake. It is my habit, I prepare some dish for my family when they get back home. I was thinking of making something. I was craving for something sweet. I love chocolates and a restricted list of South Indian sweets. Basically I do not like milk sweets (except gulab jamun) and ghee fried dishes.
Athirasam was my favorite always. Athirasam is a traditional sweet of South India made with rice flour and either sugar or jaggery. I prefer the cheeni athirasam over the jaggery version. Cheeni Athirasam is made with white sugar. We have a sweet shop near by which is a very old sweet shop. They make the best ever cheeni athirasam.
So I decided to make some cheeni athirasam (cheeni means sugar in Tamil). I opened the refrigerator to see huge bar of chocolate. I was like totally puzzled looking at it and to satisfy my craving. I decided to try the cheeni athirasam with the twist. (Desserts with a twist). I was thrilled to try choco lava cheeni athirasam. Onto the tasty recipe.
Make a dough of rice flour, oil, sugar, hot water and cardamom powder.
Add curd and knead well.
Refrigerate for good 1 hour.
Heat oil in a wok for deep frying.
Place a piece of chocolate and form a ball.
Pat the chocolate stuffed dough ball, flat again and deep fry on medium flame till golden brown.

Relish them warm to enjoy the blast of cheeni athirasam with choco lava inside.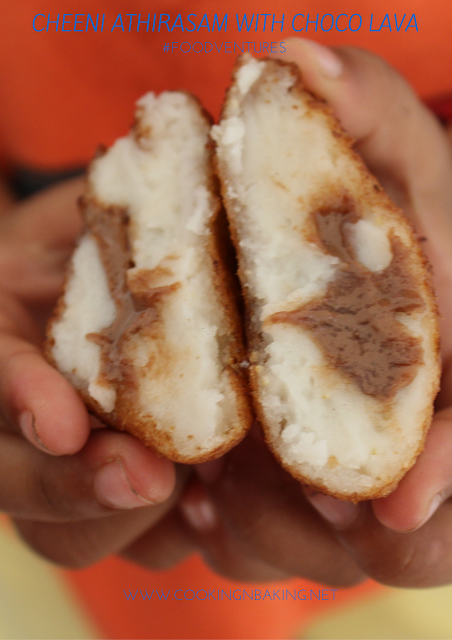 I came across wonderful #Foodventures by Axis bank where celebrity chef Vir and Vikas Khanna speak about Desserts with a Twist. Visit #Foodventures to enjoy yummy stories of desserts with a twist.
Share your own story too!
I would suggest that if you have you had any such amazing #Foodventures which showcases a desserts with a twist, then you should share it on this platform.
Infact by doing this, you could get a chance to feature with the celebs who