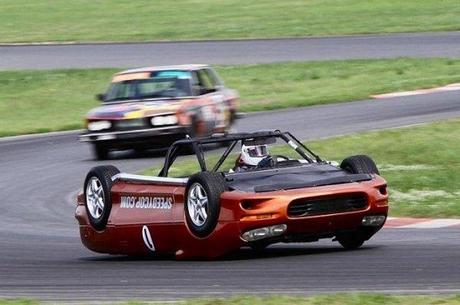 Jeff Bloch, AKA SpeedyCop is a car enthusiast who loves to do some crazy stuff. Drag racing, demolition derbies, dirt track racing and building hot rods, you name it, he's done it all. Bloch's latest creation was this weird-looking car that can be driven from the roof.
"I'm an 8 year-old kid trapped in a 40 year-old body, with just enough talent to pull off my wacky ideas," says Jeff Bloch.
Using a 1999 Chevrolet Camaro he's built this car to participate in the 24 Hours of LeMons race, where all the crazy drivers show off their weird vehicles. Bloch managed to finish "98th out of 139 cars, beating 40 proper race cars, and one Rolls Royce". Which I think is not bad for a car that goes upside down.
Check out the videos for more info.
[Via: Technabob / Source: SpeedyCop]
(All the images, trademarks, logo's shown on this post are the property of their respective owners)
Roshan Jerad Perera