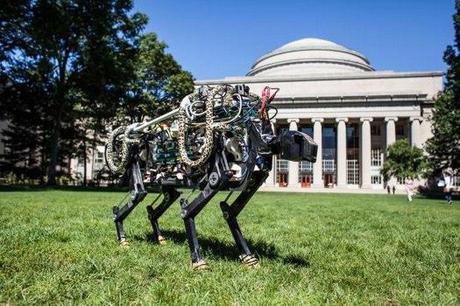 This robot may look like a cheetah, but it can only run at a speed of 10 miles per hour. Which is no way near the 120mph speed of real-life cheetahs. However, now with the ability to keep the running pace of a cheetah and being able to jump over obstacles, MIT's robotic cheetah sees great improvements as it seems to work well even in the real grounds.
Read Also: Twerking Robot: For a World Without Miley Cyrus
MIT's robot cheetah will need more improvements if tit intends to compete against the Boston Dynamics' four-legged WildCat robot, which can hit 16 mph on flat terrain and 28mph on the treadmill.
[Via: Popular Science / YouTube]
(All images, trademarks shown on this post are the property of their respective owners)
Follow @nrjperera – Roshan Jerad Perera