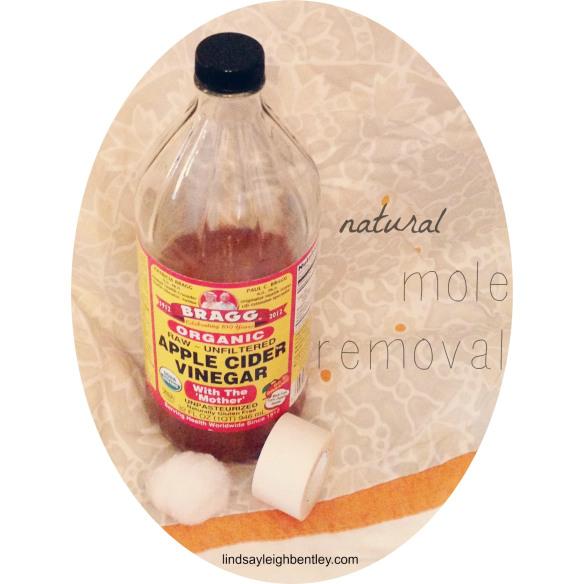 So, I wouldn't say my skin is my best feature.  It's freckly, tans well but in different shades  depending on where it is on my body, I have freckles on my knees, and I have moles.
Quite a few actually.
Ack.  
I had several removed by a doctor long ago but I paid about $150 each and they didn't even do that great of a job! They bled, it hurt, I have scars…they didn't even fully remove one of them.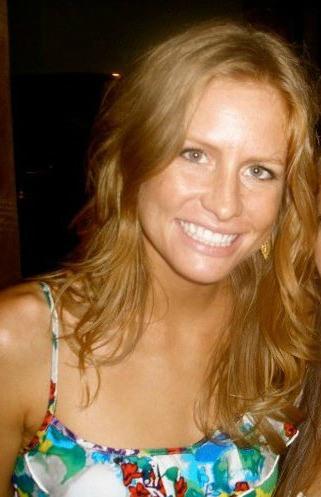 It's vanity really, they aren't a problem, I just think they're ugly.  And you know what's kinda annoying?  My husband has only one.
ONE.
Not fair I say, not fair at all.
Anyhow, I got to thinking that there must be some natural ways to get rid of the nasty little blobs so I started researching.
There are a lot of options out there, but I couldn't find many testimonials of any of them actually working…so I decided to be your guinea pig.
You're welcome.
The two methods I started with were garlic and apple cider vinegar.  Mostly because I had everything I needed on hand, and the supplies are SO stinking cheap!
Another product I have heard that works well is Oregano Oil, however, this has been said to burn pretty bad, and it's not safe during pregnancy, but I'm totally up for trying it in the future!
I chose one on my face that particularly bothers me (I know, not smart to experiment with your face…), one on the back of my arm, and one that magically appeared on my chest during my first pregnancy (yay!)…

I was expecting the garlic to work the best, so I did it on my face and chest and did the ACV on my arm.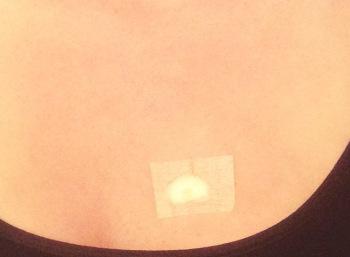 However, after 3 days the ACV one had turned black (I know….it get's worse before it gets better) and the garlic ones were drying out, but it also seemed to burn the skin around the moles, actually causing a scab on my face.  The one on my arm was relatively focused just on the mole, with the skin around it only mildly red, mostly from the tape I think.
So, I switched them all to ACV.
Here's my method:
soak a cotton ball in raw, unfiltered apple cider vinegar
squeeze out excess while still leaving the cotton saturated
cut off enough of the cotton to completely encompass the entire mole
place the cotton on top and surrounding the sides of the mole and cover with medical tape.  I know, sexy, right?  Remind me why I do these things when my husband is home?
**I prefer the tape over a bandaid as it locks the moisture in, preventing the ACV from drying out.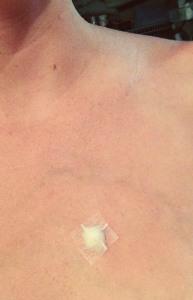 Leave this on overnight, remove in the morning, and repeat every night until it dies, has become a scab, and falls off (or gets picked off if you're impatient like me!)
Because ACV is so smelly, I preferred to just do this at night, and do coconut oil mixed with Frankincense essential oil during the day. This keeps it soft and the Frankincense promotes the death of the nasty little thing as well.
Like I said, after 3 days the mole was mostly black, and scabby.  After a week it seemed totally dead.  At 9 days I gently pulled the scab off to reveal a small white crater.  Unlike having them sliced off, the ACV had eaten away only the mole!  It's pretty awesome if you ask me.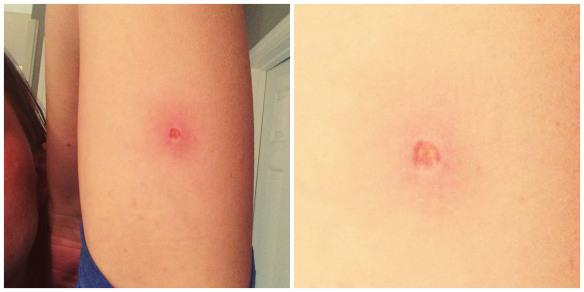 No bleeding, stitches, numbing shots, costly visits to the Doctor…I'm sold.
The bonus?  It costs about 10 cents per mole!
Here it is today, healing, redness around it is almost completely gone.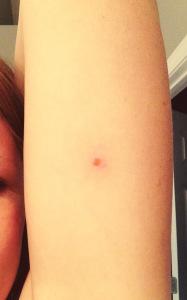 I expect a small scar, but I have scars from ones that I had removed by a plastic surgeon so that doesn't bother me.  Daily application of coconut oil will help to diminish them drastically.
Because I started with garlic on the other ones, I had to stop and let them heal before starting again, so I'm just beginning the process with the ACV on those ones.
Alright, I hope this didn't gross you out so much.  But I think moles are more disgusting…good riddance.
Now, I'm completely obsessed.  I'm doing this on every single one on my body…perhaps I should wait until the winter when I can cover up a bit more, but I'm not good at waiting!
I would LOVE to see how this works for you guys!
live well. be well.