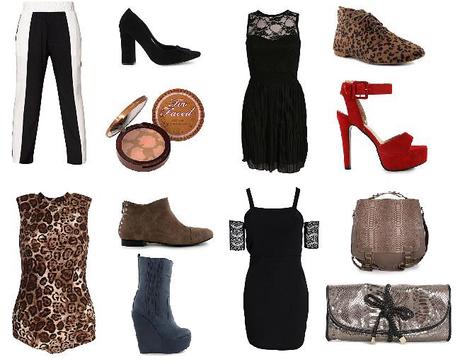 UNDER 30 EUROS SELECTION. CHEAP IS CHEAP. SALES ARE MAGIC.
Black and white pants, 11.95E; Pointed pumps, 12.50E; Too faced bronzer, 17.95E; Lace pleated black dress, 20.95E; Leopard flats, 21.50E; Burgundy sandals, 24.50E
Sleeveless eopard body, 22.95E Flat studded booties, 22.50E; Black platforms, 26.95 E; Little black dress, 26.95E; Snake print bag, 20.95E; Silver clutch, 24.50E
You know I love to share my tricky Online shopping secrets with you, after my stuff is signed, sealed and delivered in various shopping carts of course. I am good but wouldn't want to run around a 36EU size because mine was gone because of too much sharing. If you check my Happy shopping guide you can see some of the discounts that are still running. Don't forget xmas is not about the 25th but about overspending during 12 days, credit cards bills will be due in February if you play your cards right. Just saying.
Back to business. I assume you know Nelly.com, Scandinavia's new kid on the block.  They do add stuff every day and prices change every time you log in, so I'd say buy now and regret later. They are house to Elin Kling's Nowhere collection and have the cheapest version of the Acne pistol boots. Because it's xmas and because my package is already on my way, here you have a code that gives you access to the Sale before anybody else (one day VIP access is nothing considering how many hours you'll spend browsing). You can only use it on the Dutch and Swedish sites for now but starting tomorrow AM you can tell all your friends abroad.
Happy shopping!