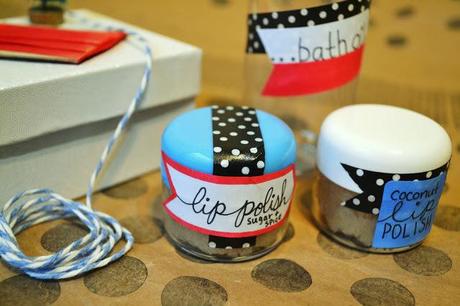 Here in Seattle, I'm lucky to have access to shops like Zenith Supplies and Packaging Specialties, both purveyors of nice packaging supplies. I realized, though, that not everyone has access to shops like these and may be at a loss as to wear to find packaging for their homemade gifts. So last month I set out to find bottles, labels, jars, etc. fit for gifting. I'm happy to report I only had to make one stop at Target to find all I needed!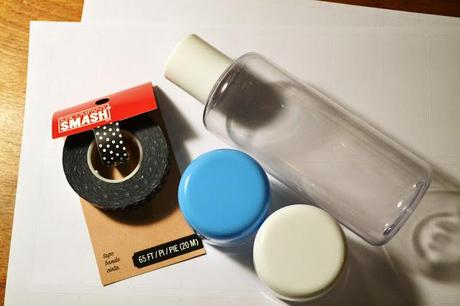 I turned the above bits and pieces into the festive vessels you see below.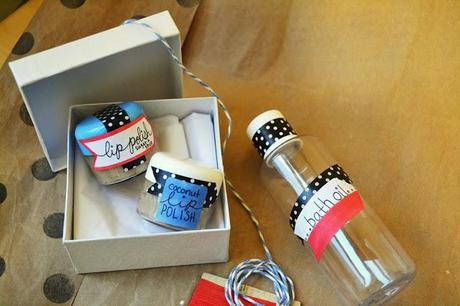 Products I used:Jars, bottles, and containers (usually found with the travel sized stuff)Decorative tape or stickers (scrapbooking/crafts aisle)Good pens (scrapbooking/craft aisle)White address labels (office supply aisle)
Also useful:Markers, ribbon, pencil, good eraser, ruler, scissors
I filled my jars with lip polish (get the recipe here) and plan to mix up some bath oil to fill the bottle. Here's a good recipe if you want to make bath oils and here's a recipe for bath salts. I recommend storing bath salts in a bigger container than the ones shown in this post, simply because you use more of it. A recycled jelly jar works perfectly!
Use the tape and stickers to decorate and seal your containers. For the labels, you can either hand-write them or design a label on your computer. The package of labels should have directions on setting up your printer to correlate with the labels. If you like the look of my labels, use your scissors to carefully cut the shapes. This is where a ruler and pencil might come in handy.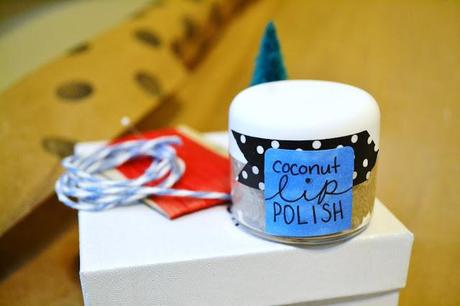 If you have any questions on how I did something or where I got a product, please leave a comment and I will get back to you :)