So, something that has honestly been bothering me a few months now is the inevitable weight gain that comes with travelling, living somewhere like Buenos Aires, where I have been studying Spanish. Unfortunately, it is just bound to happen- food businesses including panaderías (bakeries), confiterías (sweets shops), heladerías (ice cream), empanada and pizza joints are just  abundant in this city and inconveniently selling cheap bites to travellers on a budget.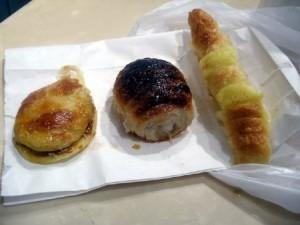 Some of the delights you can buy from a confiteria in the city
Other factors that contribute to weight gain here include bread baskets at every restaurant and the generous waiters who refill them, constant Fernet drinking with newly-made travel friends and the little voice in our heads that says every day 'I am overseas and I have never felt so free so I am just going to finish this family-sized bar of chocolate on my own and have an ice-cream after lunch too, take that stomach!!'. There is just something about having an insane overseas experience that can sometimes make you say these sorts of things to yourself because you're away from home where we are limited to daily schedules that generally don't allow us to be this reckless with food portions and choices.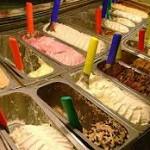 Some of the delicious ice-cream found in Buenos Aires
There is another thing to consider though while  on the road and it is that sometimes there is simply no option but to eat what is available. If you're lucky enough to receive food on overnight buses, the meal will usually include a white-breaded sandwich and cookies and while in Bolivia, it is quite normal to receive a dish with both rice, french fries AND bread on the side.
An endearing quality about the average backpacker is the constant search for food that is cheap and in Argentina, that is empanadas, the Latin equivalent of pies or pasties. They are simply everywhere here. Sometimes you come across a great place that offers a whooping 8 varieties which can keep you going back every day for a week, and at 6 pesos each, you can go nuts! At the end of this time though, your stomach will probably be screaming for something a little fresh and healthy.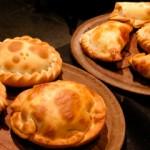 Empanadas here can be filled with anything from beef and vegetables to chicken to roquefort cheese and onion.
Henceforth, I have put together 5 simple, cheap and healthy meals that can be prepared in the simplest of hostel kitchens. I've stuck to a budget of 20-25 pesos per meal that can sometimes be split into 2 nights' worth of dinners. You can usually get all of these ingredients from any supermarket or verduleria (which are usually cheaper than supermarkets as their stock is brought in locally.)
CHICKPEA AND VEGETABLE CURRY
1 can chickpeas
1 can diced tomatoes
1 ½ teaspoons curry powder
Spinach leaves
White or Brown rice
Wash rice and cook in a pot. Heat oil in a wok or largish fry pan. Fry chickpeas for 2-3 minutes on high heat until slightly soft. Add tinned tomatoes and stir for 2 minutes. Reduce heat and add curry powder. Let simmer for 10-15 minutes and at the end, add the spinach so it wilts a little. Serve with rice. (Serves 2)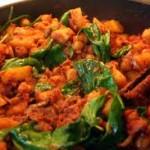 Chickpea Curry with Spinach
SPINACH AND CHERRY TOMATO SALAD WITH SEARED BEEF
1 bunch fresh spinach
1 punnet cherry tomatoes
Extra virgin olive oil
1 packet chuck steak or thin filleted steak
Tomato and/or garlic marinade from a bottle
Cut the meat how you like. Pour marinade over it, cover, and leave in the fridge for half an hour. Meanwhile clean your salad components and dry. Once meat is marinated, heat a grill and sear on both sides until cooked to your liking. Arrange meat and salad together and add olive oil to taste.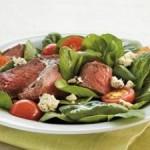 Spinach and Cherry Tomato with Seared Beef
GOOD OL' BURRITOS (my versión)
1 packet beef mince
Burritos or 'arabic' style bread
1 green capsicum/pepper
1 onion
2 tomato
1 avocado
First, chop both tomatoes into small chunks. Put half aside for the beef and the other half for the 'guacamole'. Mash up the avocado to a good consistency and add half the tomatoes. Heat a fry pan and cook the minced beef well, add 2 tablespoons of wáter and the other half of the tomatoes. Wait until wáter is absorbed then put aside. Use the same pan to fry some finely sliced onion and capsicum until soft. When ready to eat, pop the burritos or flat bread in the microwave or oven if you have one and heat to your liking. Assemble food together and enjoy. (Serves 2-3)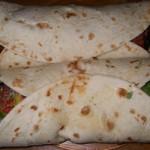 Beef Burrito with peppers and guacamole
SPAGHETTI APOLLO KOTA
1 packet spaghetti
1/3 liter chicken stock (they only have cubes here)
A little cream
1 packet chicken breast, cut into bite-sized pieces
1 bunch spinach
1 onion
¼ pumpkin or sweet potato (ideally baked but you can pan-fry as well)
If you have an oven, chop the pumpkin or sweet potato into bite-sized pieces and bake for ½ hour. If not sautee in a fry pan until very soft. Prepare pasta in a pot. Fry chicken in a pan until thoroughly cooked, put aside and then cook the onion until it is translucent. Return chicken, reduce heat and add  2 tablespoons cream. Stir and add 1 cup of chicken stock. Add the pumpkin or sweet potato, then 2 more tablespoons of cream and one cup of stock. There should be a nice creamy sauce forming (add more liquid if you think necessary.) Let the sauce simmer for 10-15 mins and at the end, add the spinach leaves until just wilted. Serve over pasta. (Serves 3-4)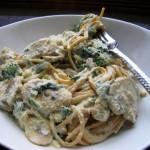 Spaghetti Apollo Kota
STICKY RICE
1 packet brown rice (if cooking for 1 person, ½-1 cup is sufficient)
Peas
Soy sauce (something that is surprisingly sometimes hard to find here in Buenos Aires-you may have to come across a Chinese supermarket for a bottle)
The most elementary of the 5 and surprisingly satisfying! Prepare the rice in one pot and the peas in another. When both cooked, mix together and add a generous amount of soy sauce. Yum!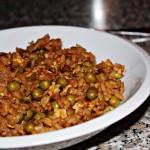 Sticky rice with peas
For more information on food in Argentina or learning Spanish in Buenos Aires, click these links!