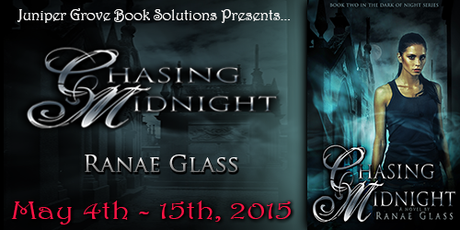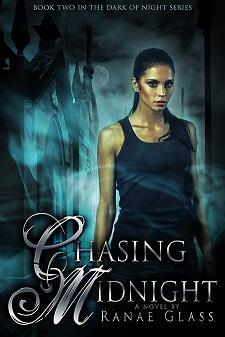 Title:  
Chasing Midnight
Series:  Dark of Night, Book 2Author:  Ranae GlassPublished:   April 21st, 2015Publisher:  Crimson Tree PublishingGenre:  NA Paranormal RomanceContent Warning:  Violence and adult languageRecommended Age:  18+
Synopsis:  Isabel Stone's life is far from normal. She's a girl with problems—vampire problems to be specific and, now, she also has one ticked-off specter on her hands. Approached by a childhood friend and medium, Isabel agrees to look into the murder of a local girl, only to wind up inhabited by the solitary witness—a centuries-old ghost who is all too happy to piggyback along in Isabel's body, and she's not leaving until the culprit is behind bars.With the help of her partner, Shane, and her crazy family, Isabel struggles to get to the truth, unmask a killer, and deal with her growing feelings for not one, but two, of the sexy, undead men vying for her heart. Just when things are finally falling into place, a huge revelation takes her out of the frying pan… and straight into the fire.
Amazon | Barnes & Noble | GoodReads
Excerpt from Chasing Midnight by Ranae Glass:
I ducked behind the brick wall just before a beer bottle whizzed past my head, exploding into shards of brown glass behind me.
   "You have got to be kidding me," I yelled, and peeked over the wall. He was running. I caught sight of him just as he rounded the far corner of the alley. "Get back here, Gallas!"
   I didn't think he would actually take me seriously enough to listen, so I was stunned at his decision to take off rather than stand his ground and fight. I was maybe 130 lbs. soaking wet, and a head shorter than him to boot. Maybe my reputation was finally preceding me. I smirked at the idea as I bolted over the top of my cover, chasing after him.
   At the end of the alley there was a tall barbed wire topped fence. The sound of my boot heels hitting the pavement echoed down the dark street. He must have looked up and saw the fence because he turned, bursting through the back door of the antique shop at the end of the alley. I cussed and backtracked. Thank God I was familiar enough with these back streets to know where most of the entrances would exit. Running to the front I arrived at the glass picture window just as Dave Gallas, parole violator and accused hit and run driver, threw himself into the window from the inside, breaking through in a shower of clear glass. I shrieked and collapsed downward, instinctively covering my head with my arms. He leapt over me and kept running.
   Aside from a few small scratches, I didn't feel any severe pain from more wounds.  I wasn't planning for Gallas to be so lucky. Out of breath and patience I stood, watching him run into the night. Not human, I realized. Besides the idiocy of crashing through a plate glass window and taking off without hesitation or harm—which any meth head could manage—his gait gave him away. It looked almost fluid, as if at any moment he'd lean forward and run like an animal on all four limbs.
   With a sigh that contained more than a little satisfaction, I drew the small silver whistle from under my red t-shirt, stuffed it between my lips and blew. Instantly Gallas clutched his hands to his ears and pitched to the side, falling into the middle of the street. I kept blowing as I jogged up to him.
   Just as I reached him, I heard some commotion and turned my head to see that we were less than a block from Xavier's seedy club, the Painted Lady. The bouncer at the door was mimicking Gallas' stop, drop, and roll impression. Two men who were probably vampires rushed out of the club. Of course. It might not affect them the same way, but with their superior hearing, they could at least hear the dog whistle. I stopped blowing as they helped the burly Were to his feet. He pointed to where I stood over Gallas. Shit. I was about to have company. With fangs.
MY REVIEW5 Stars

Chasing Midnight is the exciting successor to Chasing Daybreak.  I was eagerly awaiting this story and was not disappointed in the least.  Isabel's  life is still complicated and messy, yet she remains one of my favorite characters in a long while.  Her relationship with Shane continues to be strained, especially as she is sneaking peeks at another hunk that may or may not be just what the doctor ordered.  I love the way in which the author, Renae Glass, shuffles humor, heartache, and mystery in just the right way to create lively relationships along with an unusually imaginative story.  Enjoyed the ride tremendously and will certainly be on the watch for the next book.
This book was given to me in exchange for my honest review.
Reviewed by Laurie-J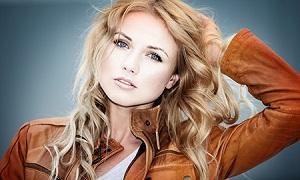 About the Author:Ranae Glass writes New Adult Paranormal Romance. A Southern girl at heart, Ranae loves feeding people, gardening, and sweet tea. She hails from Oklahoma and lives with her family out West where she spins tales of vampires, werewolves, and other things that go bump in the night. You won't find any 'vegetarian' monsters here, her books are best served bloody and are not for the faint of heart. Ranae is the author of the Dark of Night novels from Crimson Tree Publishing.
Facebook | Twitter | GoodReads | Website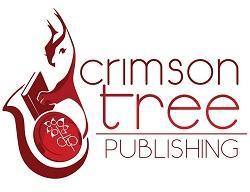 Crimson Tree Publishing Links:
(an adult division of Clean Teen)
Website | Facebook | Twitter
Giveaway Details:
There is a tour wide giveaway. Prizes include the following:
A bookmark swag pack and winner's choice of any Crimson Tree or Clean Teen Publishing eBook, and a $15 Amazon Gift Card.
Giveaway is International.
a Rafflecopter giveaway