Yesterday, we wanted to give our kids the gift of FUN! And I wanted them to burn off as much energy as humanly possible before we sat down to dinner. It's the only day of the week our store is closed and we're actually together as a family.
We headed indoor to a place called the Blast Factory. It's got bouncy castles and bouncy slides and padded flooring. The girls, ages 5 and 6, can run all around and do everything on their own, but my little guy... well, he needs assistance. Since I'm smaller than my husband and can manage to climb in and out of those holes that serve as bouncy entries, I was assigned the task.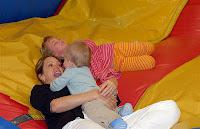 Bouncing, bonding and burning calories too!
Photo Credit: FredThompson via Flickr/Creative Commons
I had told my hubby earlier in the day how we needed more exercise. Well, I got it! Have you ever carried a 30lbs toddler up a very tall flight of bouncy stairs? 6 times? Then bounced down a slide? 6 times? I don't even know what you call the different bounce activity centers they had, but I climbed in, climbed up, climbed over, under and through (cue Grover) and bounced for 60 minutes. Whoo! If that isn't a workout, I don't know what is. And it's the very best kind. Bouncing around with my babes and having a blast. The place is aptly named.
Have you taken your babes anywhere fun lately and burned off lunch at the same time? Do tell!