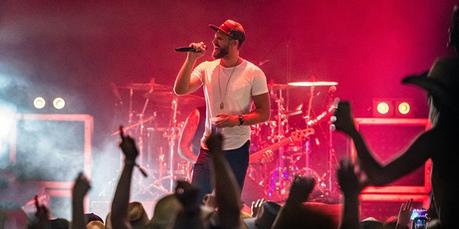 Chase Rice came back to Boots and Hearts for a party, and he got one!
The Eyes On You star headlined the Coors Banquet Kick-Off Party on Thursday night, and he gave every ounce of energy we could have hoped for. Early in his set he leaned out with the microphone and shouted, "We're gonna give you everything we've got, give it back to us, k?", and they did. From start to finish it was a set that had girls on shoulders, thousands of voices singing in a country music choir, and a rock and roll attitude.
Before he hit the stage, we had the chance to catch up with Chase Rice for a few minutes behind-the-scenes to talk about coming back to Boots and Hearts, his career, his brand new single, Lonely If You Are, and this fall's AM/PM Tour.
This slideshow requires JavaScript.
The first thing we asked about was coming back to Boots and Hearts. After making some jokes about finding his bearings on the festival grounds, Chase told us that he was happy to be back. He had a free weekend on his schedule, and when Boots and Hearts was presented as a show to fill a day, he jumped on it. He added that it's always a plus to be able to come and play in Canada, where country fans have always been good to him.
The Thursday night fans proved that claim throughout Chase Rice's headlining set. They were loud and happy, and we have no doubt that they made him feel good on stage. And when they sang his songs back to him, it tied in perfectly to a question we had asked him earlier.
Q: What is the feeling when the crowd sings back to you or when you see that big pop?
CR: Nirvana. I mean those nights, I think that is kind of what it is. Yeah, it's just the feeling of wow, I'm doing what I'm supposed to be doing in my life and it's working and firing on all cylinders. It takes you to a cool place in your head and heart. Nirvana.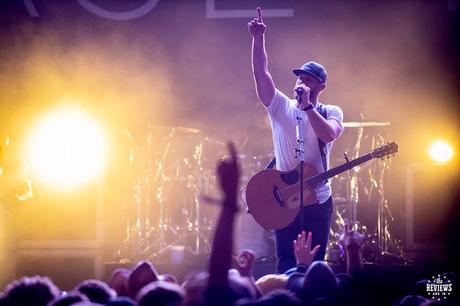 During our interview, Chase was also honest about the ups and downs of the last few years. There were a couple of songs that came out that didn't perform the way everyone had hoped and thought they should. There was a label change, bringing a fresh start and a new chapter in his career. And in that new beginning has come his first number-one single, Eyes On You, and now the biggest start from a song in his career with Lonely If You Are. He added that the band is still the same, the shows have remained exactly what they want them to be. And, Chase believes that all of them are better at what they do. He includes himself in that, saying that he's a better songwriter and a better singer now.
Note: As we saw in 2016 at Boots and Hearts, Chase Rice's band is awesome. They are talented and energetic and entertaining. During the band introductions/medley, there were two cheers bigger than the rest. First, bass player Marcelo Bakos played O Canada, to the delight of everyone who started singing along with glee. Second, drummer Jeremy Roberson, a Toronto native, got a huge cheer when Chase introduced him, and he earned it with his drum solos.
Once again, he backed up everything he said. The band was on fire all night, ripping through the setlist, performing for the crowd, and giving them a show in all senses of the word. Rice was also in top form. He moved across the stage, got up on monitors, and engaged with the crowd. He even pulled two fans up for a wild few minutes during Ride. But more than anything else, he sang. And he sang well.
It was clear from our vantage point that Chase Rice was all-in on his job to be the guy ending the Boots and Hearts 2019 Kick-Off Party. He was a little rowdy, he wasn't scared to drop some F-bombs as needed, and to steal a term from his days as a college football player, he left it all on the field.
We expect that the fall dates on the AM/PM Tour are going to be a lot of fun too. So if there's a show coming to a city near you, we recommend you get yourself a ticket!
Chase Rice Setlist, Boots and Hearts 2019
♢ Lions
♢ Do It Like This
♢ Everybody We Know Does
♢ Jack Daniel's Showed Up
♢ Gonna Wanna Tonight
♢ Three Chords & The Truth
♢ Lonely If You Are
♢ Ride
♢ Eyes On You
♢ Cruise with Jaren Johnston
♢ Band Intros/Medley
♢ Ready Set Roll
This slideshow requires JavaScript.
This slideshow requires JavaScript.