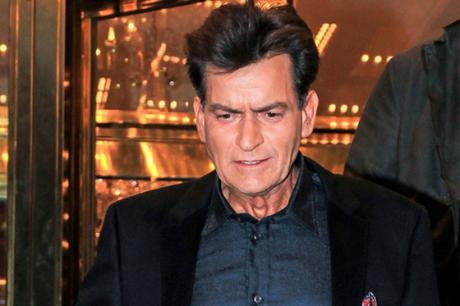 Charlie Sheen, 50, in early 2015
3 days ago, I published a post on a Hollywood actor, described as a world-famous "superstar," being infected with HIV that will lead to AIDS. (See "Who is the HIV-infected promiscuous "superstar" who's had Hollywood in a panic?")
Give the public health implications of this actor's promiscuity, it was only a matter of time before he is outed.
This morning, National Enquirer has outed Charlie Sheen as the actor:
Decades of debauchery have finally caught up to Charlie Sheen.

In a bombshell world exclusive, The National ENQUIRER can reveal that the bad boy actor has been hiding an explosive secret from the world: He is HIV positive.

In our next issue — to hit newsstands nationwide on November 18 — The ENQUIRER blows wide open the scandal we first revealed last month.

The ENQUIRER exposed how a notorious Hollywood womanizer was hiding a deadly health crisis.

Our story –– headlined "Hollywood Superstar's Desperate Battle With Aids!" –– did not reveal Sheen's name.

Instead, it created a firestorm of speculation over his identity.

Now, The ENQUIRER will publish the shocking full story of a multi-million dollar cover-up that will rock Tinseltown.

It's the culmination of a dogged 18-month investigation that has uncovered how television's one-time highest paid star potentially spread the devastating virus to dozens of unsuspecting women.

Sheen, 50, has already begun a regimen of medication meant to counteract the effects of the disease, sources said.

"Charlie's outlook is positive," said one informant.

More than 1.2 million people in the U.S. are living with HIV or AIDS. If you are worried about HIV, get in touch with the Centers for Disease Control and Prevention.
Now that he is outed, Page Six reports that 50-year-old Charlie Sheen is scheduled to sit down with Matt Lauer for a live interview on tomorrow's "Today" show, in which he would be making a "revealing personal announcement," according to NBC.
The network declined to set a time for when the interview will air, but "Today" regularly broadcasts from 7 to 11 a.m. EST.
Since his most recent show, "Anger Management," went off the air last year, Sheen has mostly been out of the news, with the exception of a few personal incidents. Most recently, he was reportedly hauled out of a Los Angeles-area bar in a headlock.
I'm saddened by the news. I like Sheen as an actor, but I continue to be utterly baffled by why anyone, man or woman, could find satisfying a life of wanton debauchery on his order of magnitude — drugs (cocaine) and sex with actresses, porn "stars," prostitutes, and transsexuals, who number in the hundreds.
This is Charlie Sheen's rubicon moment. I pray that he repents, makes restitution to the women whose health and life he's endangered, and asks for the forgiveness of God who had given him so many gifts that were squandered.
H/t FOTM's DCG for the Page Six tip.
~Eowyn