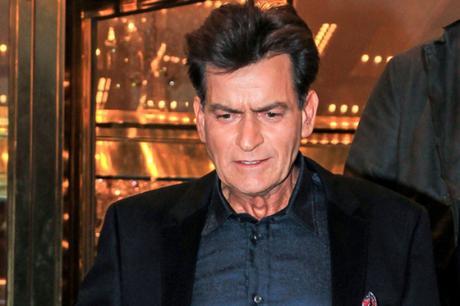 Charlie Sheen, 50, in early 2015
On Tuesday (Nov. 17), having already been outed by the National Enquirer as the promiscuous "superstar" rumored to be infected with HIV, Charlie Sheen, 50, went on NBC's "Today" and admitted he has the virus that causes the deadly AIDS.
Almost immediately, women began lining up to sue him. A "prominent Los Angeles lawyer" told TMZ that 6 women had contacted him on Monday, and he had appointments with four more. Many more lawsuits are expected because according to "someone close to Sheen," he's had "at least" 200 sex partners in the last 2 years although he had received his HIV diagnosis some 4 years ago in 2011.
But lawsuits are the least of Sheen's troubles.
He may be criminally prosecuted for not disclosing his HIV to his sex partners and, if convicted, may be imprisoned for as many as 8 years.
A source in the Los Angeles County District Attorney's Office told Radar Online, "If an alleged victim comes forward claiming Charlie Sheen had unprotected sex with them, without notifying that person about his HIV status, it will be completely and fully investigated. The victim doesn't need to contract HIV for prosecution to take place. These cases are taken very, very seriously and any alleged victims identity will be protected."
The punishment for a guilty conviction is a minimum of 3 years to a maximum of 8 years in state prison.
Under California law, it's a felony for anyone with HIV to engage in unprotected sexual activity (anal or vaginal intercourse without a condom) when the infected person knew at the time of the unprotected sex that he or she is infected with HIV but did not disclose the infection, thereby acted with the specific intent to infect the other person with HIV. Criminal defense attorney Tony Brooklier told The National Enquirer that "It's the act of not informing them ahead of time that matters."
National Enquirer got their scoop when "almost a dozen" of the 5,000 women with whom Sheen has boasted of "sleeping" divulged his infection to the magazine. The Enquirer put the women informants under intense scrutinizing, including lie detector tests administered by an independent polygrapher.
Some other details on Sheen's wanton debauchery:
According to 2013 financial reports for Sheen's production company 9th Step — prepared nearly two years after he says he found out he was infected — he spent $1,629,507 on hookers (labeled "friendly entertainment") in just one year. That was $582,507 more than the $1,047,000 he spent that year on child support for his twin sons (with Brooke Mueller) and 2 daughters (with Denise Richards).
"Multiple sources" told RadarOnline that Sheen regularly forked out tens of thousands of dollars for sex with "sex swap escorts" and gay men. A source said, "Charlie is secretly bisexual. He's had sex partners of all kind," including pre-op transsexual hookers, that is, "transgender" men who still have their genitalia. That confirms my suspicion that some men have sex with transgenders because they are get bored with normal, ordinary sex and look for new thrills to titillate their jaded but never-satiated appetites. (See "The dark side of the push for transgenderism: Sex with she-males")
Sheen and ex-wife Brooke Mueller had multiple sex partners together in the short time that they were married. One source said the two share as many as 10 partners, males and females: "It's more twisted than anyone knows or has suspected. It's crazy."
In December 2013, production of Sheen's post-2½ Men sitcom, Anger Management, was abruptly halted at his request to conceal his physical deterioration from HIV: "because he had marks and wasting on his face, and many people on set thought it was from HIV." In October 2014, filming was stopped again for about a week because Sheen had a facial wound that he claimed was from him having accidentally dove into the shallow end of his pool. People infected with HIV are susceptible to many kinds of skin lesions and infections because the virus weakens the immune system. FX network cancelled Anger Management two months later in December 2014 after 100 episodes. Sheen has not filmed any major projects since. (RadarOnline)
For what HIV does to the human body, go here.
~Eowyn