Hey Eric & Sookie Lovers!
Charlaine Harris sat down with CBC Radio on the Q Radio Show, while she was visiting Canada, over the weekend. This interview, in particular, was aired on Monday!
You can listen to the entire interview here!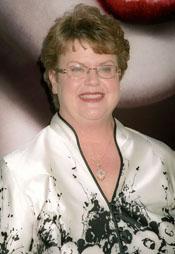 This is portion of what she said in the interview;
As fans of both the books and the show know, the Sookie Stackhouse world on screen is very different from that on the page. And while some authors hold the authenticity of their creation close to their hearts, Harris is completely fine with the creative liberties Alan Ball and the True Blood team have taken, and believes that Ball's vision has only made the adaptation stronger.

"I'm delighted with it," Harris said. "I think this is one of the most successful adaptation experiences that anybody's ever had. I'm very happy, Alan's very happy, the cast is happy, my bank account is happy."

Harris's bank account may be happy, but she knows that all good things must come to an end. As a creative person, she's constantly looking for new ideas and new inspiration. She'd rather end the series on a high note rather than keep churning out Stackhouse novels at the expense of her vision and her fans. She believes her fans deserve the very best, even if it means ending the series before they are ready for it to go.

"It will be hard to walk away, but I don't want to continue writing the books if the ideas are drying up," she said. "I'm ready to do something else."
What do you think?
There is a poll at the end of this article, where you can cast your vote to let them know which you prefer…the books or the show?
Cast your vote

here

!
Source: CBC Books