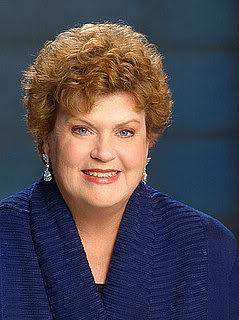 There was an article published recently showcasing TV shows returning that started off as books. Of course, True Blood was mentioned and Charlaine Harris shared her thoughts too! We thought you might be interested in reading what they had to say! Charlaine had some great things to say about Alan Ball's interpretation of her books.
Read on…
Take poor Calvin Norris, for example. In Charlaine Harris' series about telepathic barmaid Sookie Stackhouse and her various supernatural loves, Calvin is a courtly, hard-working man who also happens to be the head honcho of werepanther stronghold Hot Shot. On "True Blood," HBO's highly-rated adaptation, he's a baddie who gets offed in the third season finale.

They're not the same, and they haven't had the same experiences.

"He's a nice guy in the books, and he's a meth-dealing illiterate on the show, and I just feel so bad about Calvin," Harris said. "I've always been real fond of him. Poor Calvin, and he's dead now."

When "True Blood" creator Alan Ball was, in Harris' words, "courting" her, he warned her that his show would take on its own life. He did, in fact, breathe new life into secondary characters, transforming Sookie's friend Tara from a flighty boutique owner into a smart-talking, tough-as-nails bartender and, this season, bisexual cage fighter, and saving Lafayette, the fabulously fey short-order cook, from a grisly death early in the series.

Ball hasn't hesitated to fast-forward plot twists from later books (fairies!), amp up the kink significantly ("Exorcist" sex!) and draw explicit political parallels between vampire rights and the gay rights movement.

"Like any fan of Alan Ball, I'm always interested in what he's putting on the screen in front of us," Harris said diplomatically. "Alan's a genius. That having been said, there are some parts of it, like any other series, that I find more interesting than other parts."

Harris, who just released "Dead Reckoning," her 11th Sookie Stackhouse novel, said she's got two more planned for the series, but doesn't know whether her ending, happy or otherwise, will match Ball's.

Has she ever been tempted to tinker in the "True Blood" writing room herself?

"My head would spin around so much, I would never get it back on straight if I switched from the television 'True Blood' back to my version," Harris laughed. "I just couldn't do it. They're not the same, and they haven't had the same experiences. I just think I would go nuts trying to do that."
This article mentions Game of Thrones as being one that follows the books very closely and if it didn't…the whole tapestry could fall apart! Hmmm…I wonder, do you think the same could be said for the Sookie Stackhouse novels?
You can read the entire article here!
I'm not sure about what you think, but I wish Alan Ball followed Charlaine's books more closely than he does, especially when it comes to Eric and Sookie. The fact that an another successful HBO show, Game of Thrones, is still interesting to those who have read the books (myself included), proves that knowing the outcome of the series is just an excuse he uses to justify how he took the series and decided to write his own version. This has a name for it – it's called fanfiction.
Alan Ball has said it himself…"The books work." If that is so, then why all the changes, like Bill staking Longshadow instead of Eric? Yes, I'm still bitter about that one…
Now, before you get into it – I know that the books are from Sookie's POV. The development of other characters on the show is essential to the series, but to me, they have taken over the show to the point that Eric and Sookie have no more than maybe ten minutes maximum in an episode. WTF? None of the storylines mesh well with the main one, which should be Eric and Sookie's epic love story. Oh wait…we don't even have that do we? This is where Alan Ball has FAILED in his attempt to adapt the books into a screen version.
There's many great fanfic writers who could do a better job of writing True Blood, IMO.
What do you think? Share your thoughts below!